The attractive Victorian stone-built house provides a warm and welcoming destination for all who visit, surrounded by a large 40-acre estate, including a biodynamic organic farm and well-managed ancient woodland. It's a place people come to learn, through challenging dialogue, art and artistry, new understandings, personal growth and human development.
Since medieval times this has been a special place. The estate has worked with the land, farming sheep, cattle and crops and providing a living for the local community. The early owners of what is now Hawkwood were mill owners, using the power of the local streams to use the wool they gathered from Cotswold sheep, known as the Cotswold Lion, to create the finest woollen and felt cloth.
The house is on the south-facing slope of wooded hills, which form a semi-circle of protection from the north and open to the south, with views of the escarpment and in the distance the Severn Estuary. A freshwater spring close to the house has been pouring forth, without ever running dry, perhaps for hundreds or even thousands of years.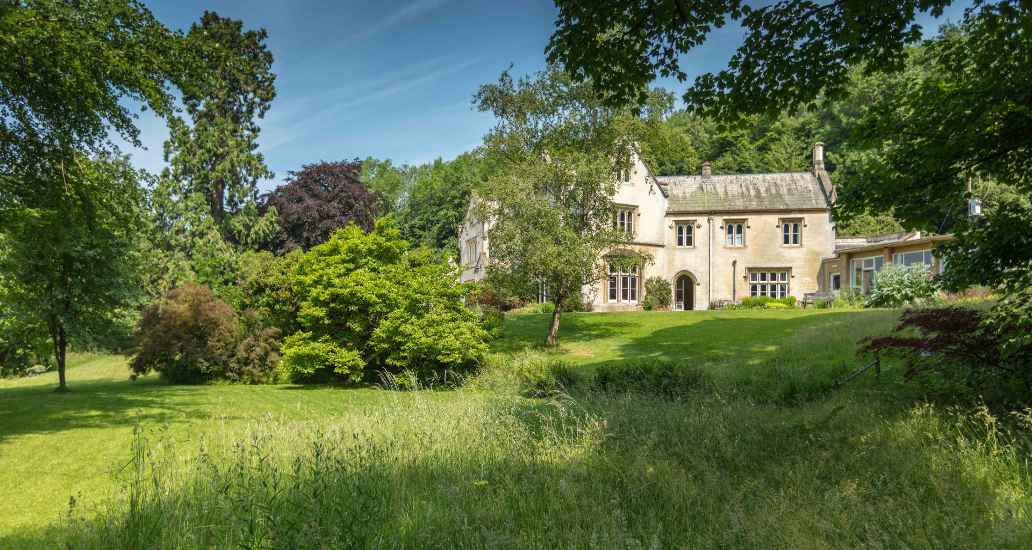 The building itself is 'Victorian neo-Gothic' style, built in the 1840s after the existing Jacobean house was severely damaged by fire. Parts of the stable block date from the early 1600s, built on even older foundations. Hawkwood became an adult education college in 1947 and with the help of finance from Triodos Bank, it has gone from strength to strength.
Today, Hawkwood has a thriving educational programme of courses covering the arts, sustainability, transformative leadership, wellbeing and music. It also runs a consolidated artist residency programme that has hosted over 150 artists over the years, and is now incubating an emerging changemaker residency programme. Alongside this work, Hawkwood acts as a stunning conference venue within a sustainable environment, actively supporting ethical organisations to run their own trainings, away days or events on a fully catered residential basis or simply for the day.
Alicia Carey, CEO of Hawkwood, says: "In everything we do at Hawkwood, we do our best to be ethical and sustainable. Working with Triodos is different. It shares our values and we know we have an aligned vision. It is also the personal relationships that make all the difference – it builds trust – it is far more than just a transactional relationship. I feel that Triodos really believes in and supports its customers beyond just lending them money. I have had meetings with our relationship manager that has supported us in building our plan."
Biannually, Hawkwood creates and produces Seed Festival: Planting Big Ideas, this year supported by Triodos. With over 100 contributors, workshops, activities and exhibitions over the weekend, Seed Festival provides a fertile ground for festivalgoers to explore their own personal connection to the earth and the challenges of environmental change through music, poetry, debate, nature and community connection.
Triodos has helped underpin the important things that Hawkwood needs to run, but which it has found difficult to fundraise for. The bank has provided numerous facilities over the years to support the organisation's growth and develop the site. For example, in 2012 it needed to undertake essential fire compliance work and additional plumbing work to ensure it was doing the very best it could to keep the site safe. Triodos finance has also helped cover the costs of upgrading the property's power supply, and with the development of a pond and wetlands system for the treatment of wastewater.
Kate Donovan, relationship manager at Triodos Bank UK, says: "Part of our commitment is to support cultural and learning organisations that foster positive thinking and a happier, healthier society. Hawkwood is a haven of thoughtfulness and peace and we are delighted to be able to support the organisation in what it does."
About Hawkwood College
Hawkwood is a charity that brings together people and organisations from many backgrounds in support of creative endeavour, a flourishing community and a sustainable environment. It aims to encourage people to make a considered difference to today's society and to the future, and provides an ethical, peaceful and inspirational environment to enable individuals and organisations to grow and develop.
Find out more at Hawkwood College's website
Why Triodos Bank finances education
Good education is fundamental to human development. We believe everybody should be entitled to a proper education and be able to continue it throughout their life. The organisations we finance in this sector include schools and conference centres.