The Conservatoire's foundations are deeply rooted in the community. The Blackheath Conservatoire of Music was formed in 1881 by local residents who were driven by a desire to bring the arts to borough. The Conservatoire of Music opened in 1896, while the School of Art opened a year later.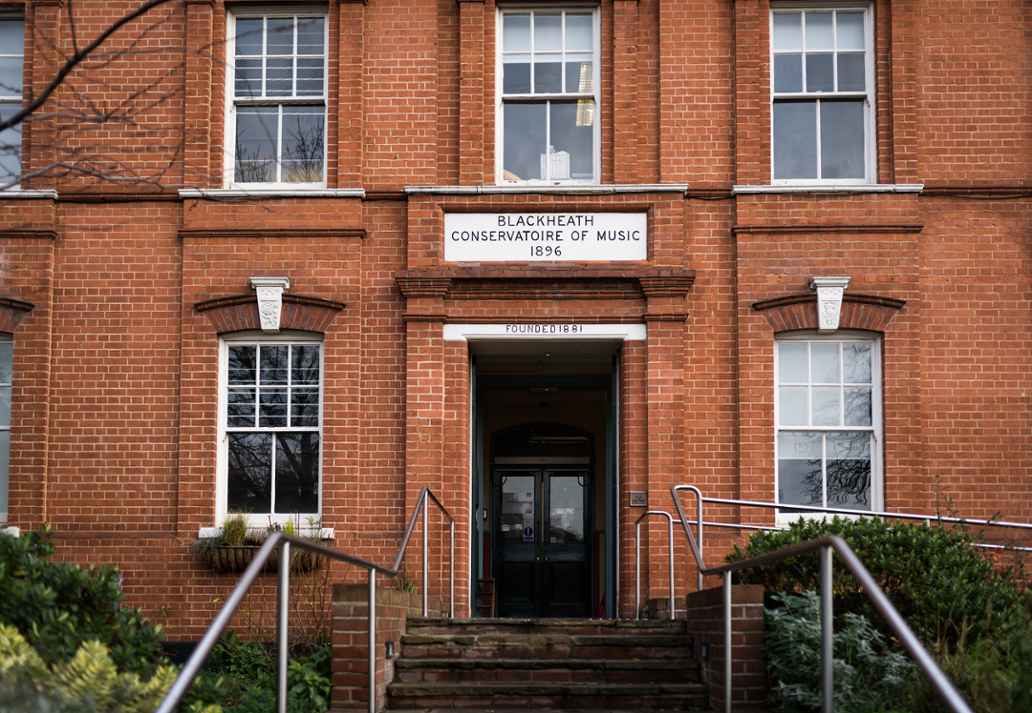 From these noble beginnings at the turn of the century, the Conservatoire has passed through a variety of guises, but has now returned to its central principles. It aims to be a true community resource, for the benefit of young and old alike.
John Keeley, principal and managing director, explains: "Our central ethos at the Conservatoire is that the arts can not only enrich lives, but potentially transform them too. Now more than ever, the arts can be drivers of social mobility, community cohesion and emancipation, and we seek to be wherever art, music and drama can make a difference."
The Conservatoire is increasingly involved in outreach projects for disadvantaged individuals and communities in Greenwich and Lewisham. Beneficiaries include those with significant musical talent from low income families or who face other barriers to participation, including special educational needs, refugee status, challenging family circumstances, and those living with Alzheimer's.
One recent outreach project involved a partnership between the Conservatoire and Age Exchange, which was designed to enhance wellbeing for residents living in sheltered housing through reminiscence and music. During a number of weekly sessions, musicians and residents worked to create songs based around their memories.
Another recent event saw the Conservatoire partner with Tate Exchange and Thomas Tallis School to work with 120 children from local schools to create a showcase at the Tate Modern. The group, which included deaf and autistic children, created work on the themes of navigation and movement.
It's initiatives like these that recent finance from Triodos Bank will enable the Conservatoire to continue running. Phillip Bate, the senior relationship manager at Triodos who has managed the loan, describes the importance of supporting the arts. He says: "A dynamic arts and culture sector is key to a thriving and resilient society, which is why we try to support and stimulate the area. We see that art improves quality of life for all and can elevate us beyond a purely materialistic society. It also plays an important role in bringing communities together.
"In hitting both social and cultural goals, the Conservatoire is just the kind of organisation that we like to support."
The Conservatoire may have a long history, but it also has a bright future. It hopes to continue to use the arts to inspire people both within, and outside of, those red brick walls.
The scale of change
David, 14, lives in Lewisham with his dad, Oren – a tuba musician himself – and 12-year-old sister Raquel. He receives a full bursary to attend weekly music lessons at the Conservatoire on Sunday mornings with Elliott Galvin – a respected jazz pianist and composer.
Talking about David's introduction to the Conservatoire, his father, Oren, said: "Three years ago, David joined a keyboard course with a music education charity, The Midi Music Company in Deptford. The teacher saw that he had talent and potential, and nominated him for a bursary with The Conservatoire. While I had heard about the lessons there from my contacts in the music world, I didn't know that it would be an option for us until I heard about the bursary.
"David loves attending his lessons with Elliot – they have a great rapport. The sessions really help him during a very challenging time as a teenager, as they give David a chance to express himself – I can see the therapeutic affect it has on him. He is going through a lot of changes in his life and school, but the piano is his own world and others can't encroach on it."
Talking about the bursary, Oren said: "As a single parent of two children, you often can't provide everything – so without the bursary this wouldn't happen. We're so immensely grateful for this little window every Sunday. It's given my son a real handle on many aspects of his life. It really has been lifechanging for our family."
About the Conservatoire
The Conservatoire is a leading provider of innovative music, art and drama education in south-east London. Established in 1881 by William Webster, the Conservatoire is part of the oldest surviving purpose-built cultural complex in London, and a vibrant and much-loved local institution. Famous alumni include Kate Bush, Gary Oldman, Jools Holland and Daniel Day-Lewis.
Last year, as a result of its lending and investments activity to cultural institutions, Triodos Bank helped make it possible for 22.6 million visitors to enjoy cultural events including cinemas, theatres and museums across Europe. This represents the equivalent of 31 cultural experiences per Triodos Bank customer.
See more about our lending to arts and cultural organisation here.