With an outstanding effort from our Office Services and IT team, 80% of our team were working from home within a week of lockdown, and within a month we all had the equipment we needed to work from home comfortably.
Meet Lily – a contact team co-worker
"I am now loving working from home. It was tough to begin with as I really missed being physically in the office with my team and feeling that sense of community.
"We quickly started to build that feeling outside the office, with social quizzes on video calls and regular check-ins as a team.
"I feel incredibly lucky to be working for such a supportive company at the moment, as every little detail has been thought of and supplied for, from posting my glasses that I left behind, to supplying me with extra screens and devices to make working from home as comfortable as possible.
"The feedback about our work during lockdown has been amazing. I am so proud of everyone in the team for getting set up on phones and laptops in different corners of their homes so quickly to continue picking up calls.
"Customers are always asking where I'm working as they can hear birdsong in the background, but little do they know I am surrounded by a jungle of plants too!" – Lily, contact team co-worker
How are we keep co-workers safe and happy?
For critical operations, teams have been split to work at different locations or on alternate weeks. All face-to-face meetings have been replaced with video conferencing. Flexible working arrangements have been put in place for those juggling childcare.
To help co-workers stay connected and well in what can feel like an isolating time, everyone is encouraged to take regular virtual 'coffee breaks' with their fellow co-workers, particularly those they haven't spoken to in a while. Online workshops in how to be resilient and manage change have been taking place, and a team of Mental Health First Aiders are on hand to support any co-worker in need of extra support.
The physical and mental health of our co-workers is hugely important to us at Triodos, and we're immensely proud of what we've been able to achieve together through this pandemic to continue to fulfil our role as a bank, serving our customers and strengthening communities.
A heartfelt thank you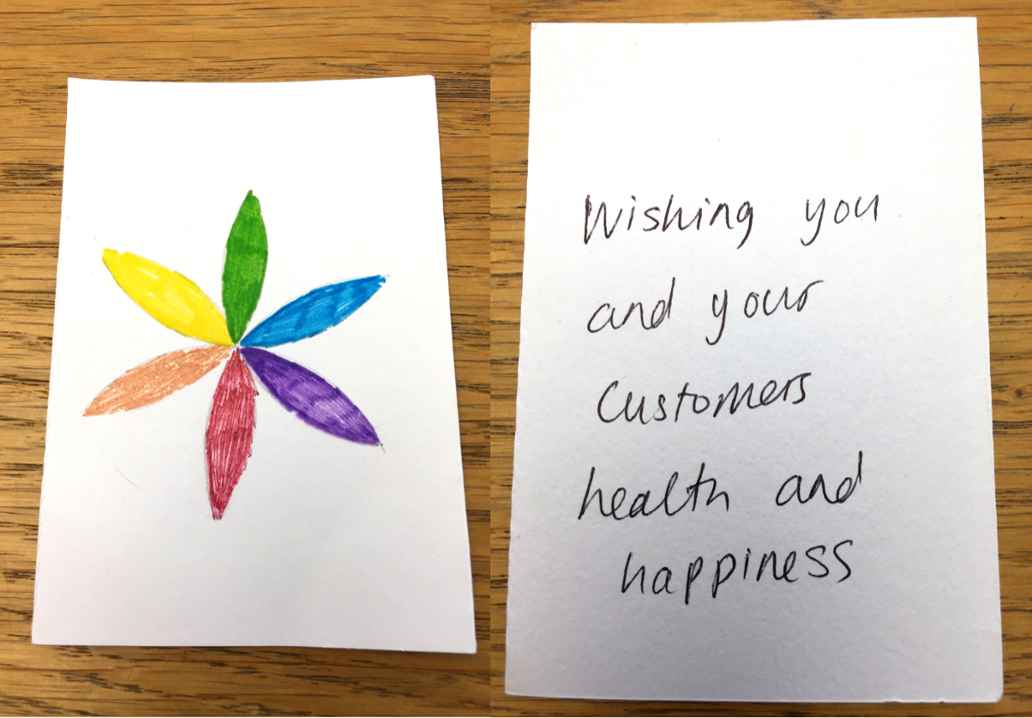 We wanted to say a huge thank you to those of you who have posted us drawings, rainbows and kind messages during this time – it's really brought a smile to our faces and reminds us what an extraordinary community we're part of.
We've also received some lovely messages on social media. If you haven't yet – join the conversations on Twitter and Facebook.
Coronavirus support
The Covid-19 outbreak reminds us of our interdependency as human beings and that a global crisis like this one, affects all of us. At Triodos Bank UK, our customers come first and we're here to support you through this uncertain time. Find out more about support from the bank, including fraud advice and frequently asked questions.