As government and health services scrambled to contain the spread of the coronavirus, local councils and communities ensured we survived. Now we need to build power and ownership in our communities so we can build back better.
Norton-sub-Hamdon CLT is a typical example of a community response. As well as building affordable homes with Yarlington Housing Group, this Community Land Trust owns and runs the village shop. They were able to draw on their networks of volunteers to keep the shop open and deliver to self-isolating households in the village and neighbouring villages. You can cheer yourself up with this short video of their lockdown story.
There has been no shortage of stories and research on this theme, whether the roundup of community landowners in Scotland, of community anchors in England, or the regular meetings of the Community Business Mutual Aid group. These examples are inspiring work to reconsider the relationship between councils and communities, even drawing on the work of my favourite economist Elinor Ostrom to rethink our political economy.
Sceptics of the community business response say that the 'most vulnerable' are not able to follow the example of the Norton-sub-Hamdon villagers; they are too busy working three jobs, keeping afloat. Tell that to those 'squatting the economy' during lockdown in Liverpool, as described by Erika Rushton of Granby 4 Streets CLT. Or the residents of East Marsh United in Grimsby, rallying their lockdown community together while buying homes off negligent absentee landlords to turn around one of the most deprived neighbourhoods in England.
Meanwhile, Black Lives Matter protests have erupted across the UK. They point not only to the legacy of slavery, but also to the Public Health England research showing structural racism has led to a disproportionate number of coronavirus deaths among Black and Minority Ethnic people. At the root of these injustices lies unequal ownership of land and housing.
At the National CLT Network we run the Cohesive Communities Fund to help CLTs address structural racism and inequality in their neighbourhoods. Sixteen CLTs are now organising to involve and share power with all the communities in their area, following in the footsteps of the original CLTs that emerged from the civil rights movement in the USA. We've also supported efforts to crowdfund a Black Land & Spatial Justice Fund.
If we are to 'build back better', more communities – and especially the most deprived and powerless – need control and ownership of land and housing.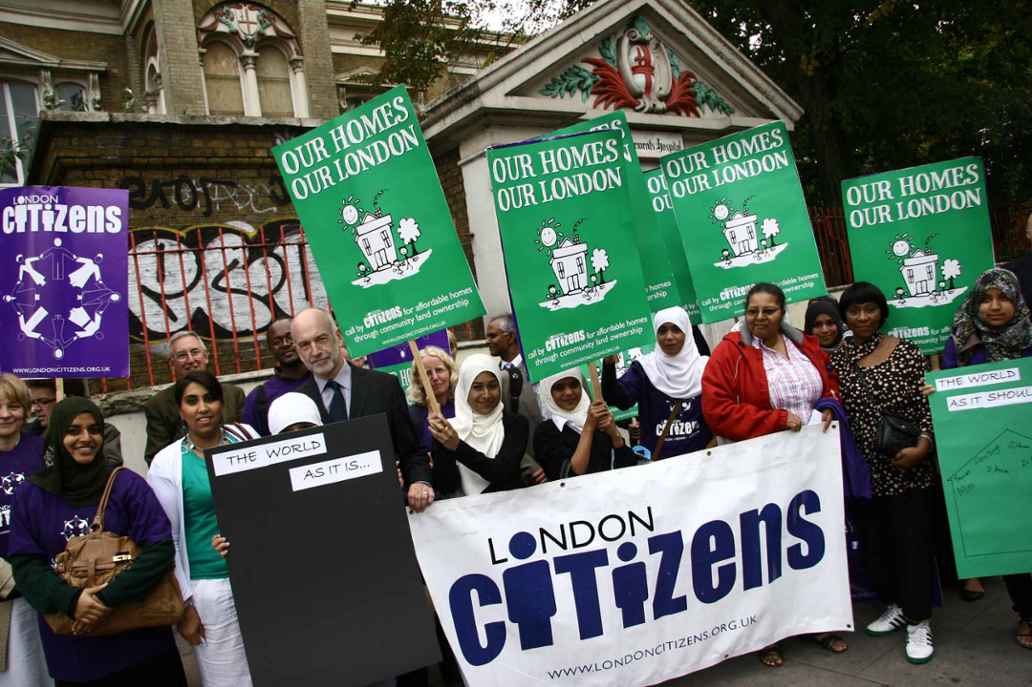 The Government should legislate to give communities in England and Wales the same buy-out powers given to Scottish communities. Imagine if every town had a CLT able to follow this example in Dumfries, buying up newly-vacant shops after lockdown and leading the local economic recovery. The Government should also make good on the Conservative manifesto pledge to support communities living on council estates who want to take ownership of the land and buildings they live in.
The Government should re-open the Community Housing Fund in England, immediately. There are over 10,000 community-led homes stuck in Homes England's system since it closed last December. These are projects that can revive local jobs and supply chains in every corner of the country, and are overwhelmingly aiming for the high environmental standards that will tackle the climate crisis.
In a similar vein the Government could boost the Community Ownership Fund; Locality has called for a £1bn budget to help communities buy up community assets that are under threat.
When communities take control, they knit together a rich understanding of what's needed locally to respond to the coronavirus, climate change and inequality, and to ensure their whole community can thrive.
We know that banks like Triodos and its customers have an appetite for investing in this activity. To build back better we need banks, councils, local businesses and national government working together with community organisations. We need government and business to trust communities more often, to share or give away power, and to help those most in need to take ownership and power over their futures.
More about Community Land Trusts
Community land trusts (CLTs) are set up and run by ordinary people to develop and manage homes as well as other assets important to that community, like community enterprises, food growing or workspaces. CLTs act as long-term stewards of housing, ensuring that it remains genuinely affordable, based on what people actually earn in their area, not just for now but for every future occupier. Triodos Bank supports a range of CLTs, including St Ives Community Land Trust. To find out more, visit our housing page to find out about the finance that we can offer to community initiatives.
Disclaimer
By inviting external contributions to the Colour of Money our intention is to challenge, provoke debate, stimulate ideas and engage with issues that concern many of us. The views printed in the Colour of Money are not necessarily those of Triodos Bank.