December saw the disappointing end of the COP25 climate talks in Madrid. The aim of the conference was to make key decisions to keep global warming below 1.5C. Above this threshold, we face a climate catastrophe that people around the world are already feeling the effects of.
The spotlight is now on the UK, hosting COP26 in Glasgow in November 2020. It's set to be a pivotal moment in our planet's bid to tackle the climate emergency, and we need a year of all-out climate action to make COP26 a success. But what does this year's summit tell us about the challenges ahead?
New voices
Indigenous people are on the frontline of the climate crisis – not just because they already face huge danger – but because they have the skills and expertise to help us survive the emergency. There's growing evidence that forests managed by indigenous people have a greater climate-protecting impact than forests managed by governments or businesses. But as many indigenous speakers told the conference, their way of life is under constant attack, and their voices are not being heard. To save the planet, we must listen to and defend them.
The summit also saw young people leading the way. World-famous campaigner Greta Thunberg got the most attention from the press, and she encouraged them to listen to the hundreds of young people from right around the world – including the poorest nations, and countries most at risk from the effects of climate change. Their passion and first-hand knowledge remind us that while rich nations are responsible for the crisis, many of the grass-roots climate solutions we need will come from elsewhere. We must support the next generation to knock down barriers and help this innovative attitude shine.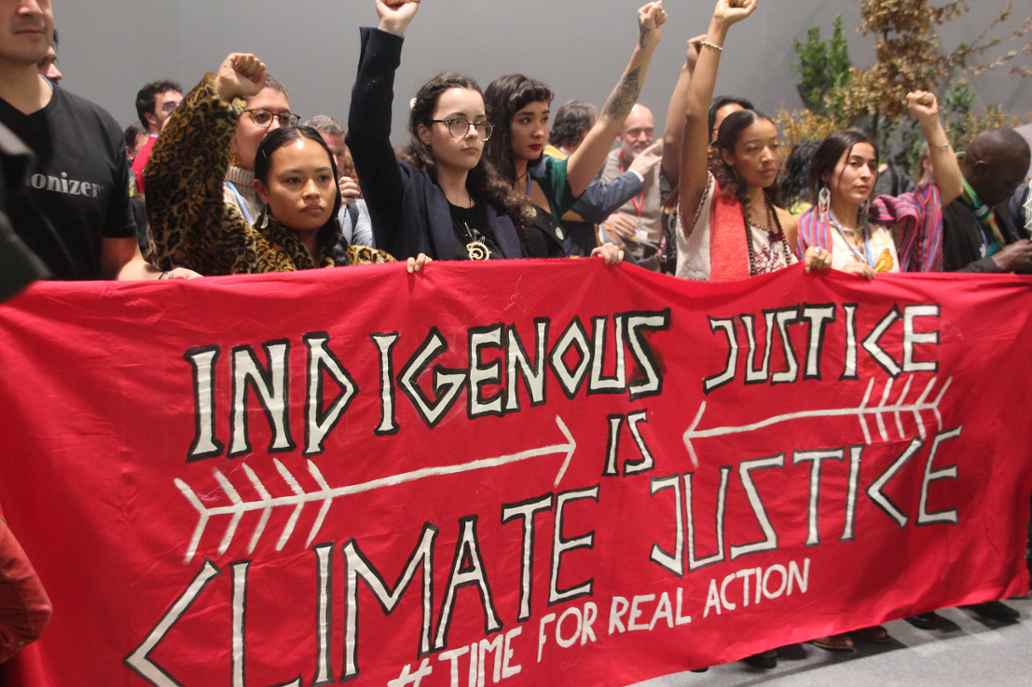 Natural solutions
Protecting the rainforests and wetlands that 'lock in' much of the carbon we produce and introducing new vegetation in the centre of our cities must be a priority. Natural solutions are a powerful tool with many benefits – creating a cooling effect in urban areas, making them more liveable in the face of rising temperatures, cleaning the air and encouraging biodiversity. The solutions to the climate crisis we face have existed for millennia – we mustn't overlook them in favour of slow to roll out, expensive new technologies.
Reality check – money talks
We saw enormous energy at COP25 – but, tragically, too little progress. The final agreements were not nearly strong enough, and too many key decisions were dodged or delayed. Afterwards, UN Secretary General Antonio Guterres said: "I am disappointed with the results of COP25. The international community lost an important opportunity to show increased ambition on mitigation, adaptation and finance to tackle the climate crisis."
This really ups the pressure on COP26 in Glasgow. It also reminds us that we can't rely on politicians alone to lead us from danger. We need to use every tool we have, including our pounds and pence.
Where we put our money matters. But it's not just about divesting – pulling money from fossil fuel companies and their allies. We must invest too, and plough cash into the climate solutions that will build the future we need. Whether that's moving our pension, buying shares in green start-ups, or shopping, eating and travelling sustainably.
Many of these solutions have benefits beyond lowering emissions. Who wouldn't want cleaner air, warmer homes, or new green jobs? As well as demanding our leaders up their game at COP26, let's use the power of money too.
About Ashden
Ashden champions practical, local energy solutions that cut carbon, protect the environment, reduce poverty and improve people's lives.
Its annual Awards Ceremony identifies the most exciting climate action around the world – and its work goes far beyond awards. It pushes for the changes needed to roll out sustainable energy solutions to those who need them most, and drive its award winners forward.
Find out more about Ashden on its website, as well as Twitter and Facebook.
How Triodos Bank supports the clean energy transition