A baby will use more than 6,000 nappies and over 20,000 baby wipes before they are potty trained. Most of these are made of single-use plastic and processed with harsh chemicals.
Mama Bamboo is on a mission to reduce the negative impact this waste can have on the planet by creating a more sustainable alternative to standard nappies. We spoke to founder Laura Crawford about her journey.
Where did the idea come from, and how did you get started?
I came up with Mama Bamboo having not managed to find a good eco-disposable nappy when my children were small. I had tried cloth nappies and really hadn't got on well with them. I then tried the only two eco-disposable options available at the time, and found them to be too stiff and papery, with too many leaks.
I was moaning to a friend who lives in Asia and she mentioned bamboo nappies. In Asia it's been known for several years that bamboo could be used in nappies and offered not only a more eco-option but a better option for babies' skin too! Bamboo makes a very soft, breathable material with naturally antibacterial properties. It can actually help reduce nappy rash.
It took about 9 months of R&D (research and development) to make a product suitable for the UK market and we launched in Sept 2018.
Do you think people are aware of the problems disposable nappies bring to the environment?
I think awareness is growing. There is a bill passing through Parliament at the moment – The Environment Bill – which if successful will legislate that all companies must print the full list of ingredients and materials on nappy packaging. This will hopefully bring this issue to the front of consumers' minds.
The problem is that nappies and wipes don't look like plastic so not everyone is aware of what they are actually made of. Most people focus on the end-of-life only and - with the rise of incineration (+13%) and promises of potential recycling plants - I'm afraid there is a growing mindset that the problem has been handled. In fact, the carbon impact of incinerating plastic or recycling plastic nappies is huge and needs to be addressed.
We really do need to keep raising awareness that the nappies and wipes should start with sustainability designed into the fabric. By choosing natural materials in the first place, we can reduce the environmental impact of production and enable a fully circular economy with compostable waste.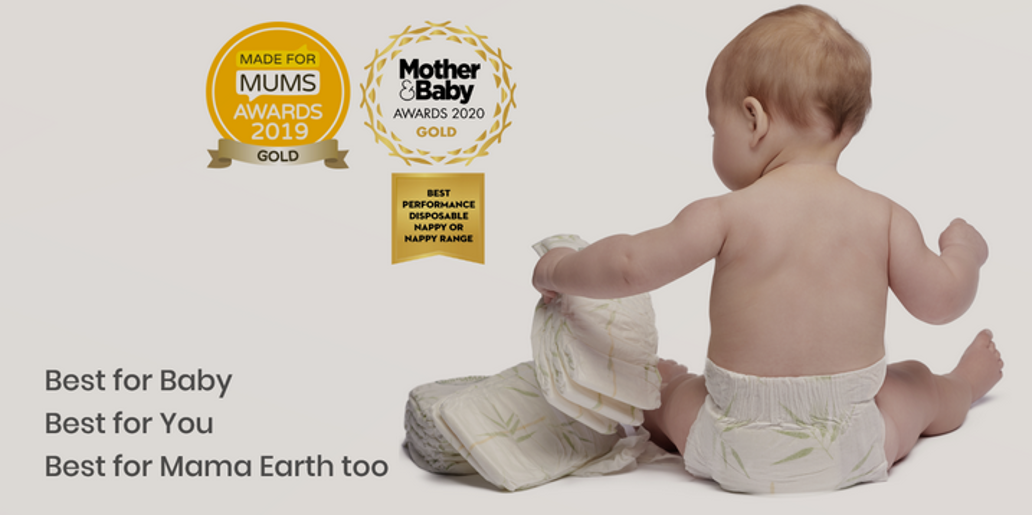 Do you have any other advice on everyday things parents and caregivers can do to be kinder to the environment?
There's a blog on our website that guides parents on how to be a little bit greener.
There are two or three key areas they can really focus on in addition to the nappies and wipes:
Milk and food: By buying milk and food produced in the UK parents can have a really big impact. There's been a big rise in food pouches and ready-to-drink milk in plastic bottles recently. Avoiding these or choosing only fully recyclable versions can be very impactful.

Second hand: Where possible opt for second-hand prams, toys and clothes. Babies are in and out of clothes within a few weeks – they grow so fast. And their development shifts in leaps and bounds within the first 2-3 years, so toys will come and go through your house at lightning speed.

Toiletries: The chemicals in some big brand toiletries are not suitable for Mama Earth or babies' skin! And most are sold in little plastic bottles. There are some brilliant organic, more gentle ranges available.
Can you tell us more about your plans for the future?
We are in the final stages of defining a joint venture with University College London and Made of Waste to run a fully circular composting model for our nappies and wipes here in the UK. If successful, we will have a blueprint to roll out nationwide to ensure all our products are processed in the ideal scenario and therefore able to experience the full benefits of using compostable products.
You can invest in Mama Bamboo's mission
You can help Mama Bamboo grow its product range and make its products accessible to more people by investing through our crowdfunding platform. This is an early stage equity investment. Your capital is at risk with no certainty of return and tax reliefs are not guaranteed.