It's led many people to ask the question: how do we create more homes and neighbourhoods that are both sustainable and affordable?
One community-led housing group has been working since 2009 to pioneer a new model to create truly affordable homes. The Rural Urban Synthesis Society (RUSS) purchased a disused site next to the Ravensbourne river in the mid-2010s and this September began construction of 36 permanently affordable new homes – the largest project of its kind ever undertaken in London.
The homes, available to local people in Ladywell, Lewisham who meet the scheme's affordability criteria, will be high-quality, sustainable and permanently affordable to future generations of tenants and buyers, with no developer profit being made and a resale covenant in place to maintain affordability. This is because RUSS is set up as Community Land Trust (CLT), ran by members to ensure the long-term protection of community assets.
A range of property sizes and tenure types, including six social rented homes for residents on Lewisham Council's housing waiting list, will help to create a diverse resident community. The project includes communal food-growing and gardening spaces, a shared laundry and a publicly accessible playground.
A Community Hub, built by nearly 100 volunteers in 2019, stands alongside the new homes and will serve as an affordable, eco-friendly work and events space for the local community.
The scheme was co-designed by a group of the future residents working alongside expert architects, and the residents will also have the opportunity to build it alongside local apprentices and volunteers.
Future resident of the scheme and RUSS founder Kareem Dayes explains: "My parents built their home as part of a pioneering Lewisham Council project 30 years ago, and this inspired me to set up RUSS to see if the next generation could deliver something similar.
"It's taken a long time – more than a decade – to get to this point, and hundreds of local people, volunteers and councillors have been involved and supported us along the way. It's been tough going too, with various set-backs along the way. But the passion and perseverance of the people involved has won through, and we are now finally ready to start the building work."
The homes, which are due to be completed in 2023, are designed for a low-carbon future, with an air source heat pump providing metred hot water, extra insulation and photovoltaic panels generating electricity. There will also be rainwater harvesting and plants to provide summer shading.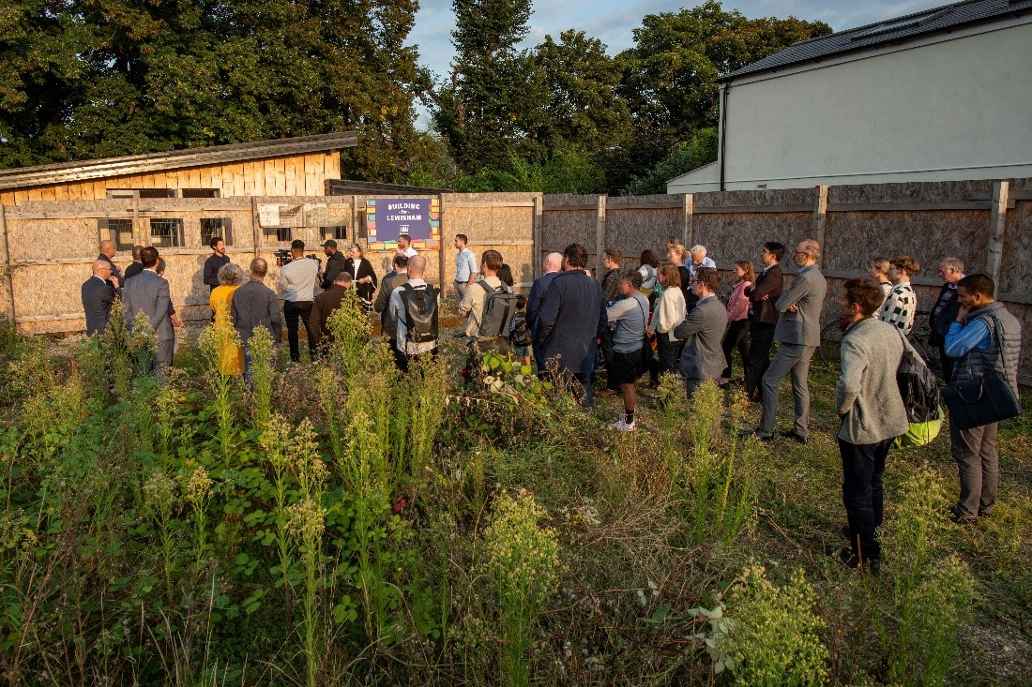 Funding for the scheme has come from a combination of sources including grants from the Greater London Authority (GLA) and loans from Triodos Bank UK, Big Issue Invest and CAF Venturesome. The scheme has also been supported by Lewisham Council, who leased the land to RUSS.
"Supporting affordable, community-led housing – which is being built with a net-zero carbon future in mind – is key to our mission as a bank," comments Gwyn Rhodes, head of business banking at Triodos Bank UK. "RUSS's work at Church Grove is a fantastic example of this and it's a great moment to see the construction begin."
The bank has been involved in the project for over seven years, including providing financial modelling and advisory work through its corporate finance team. The multi-million pound loan is one of the largest that Triodos has provided to a community-led housing project.
RUSS aims to share the learnings from its pilot housing project with other community housing groups through its School of Community Housing.
RUSS's Chair, Bernadette Marjoram, adds: "There have been many hurdles to clear on the way – securing an affordable site, funding the design team's work, financing the construction contract, recruiting volunteers and spreading the message that communities really can deliver affordable, sustainable homes for themselves. We hope this project will inspire other groups to follow the RUSS example".
About RUSS
The Rural Urban Synthesis Society (RUSS) is a members-led Community Land Trust based in South London, founded in 2009 with the aim of creating sustainable community-led neighbourhoods and truly affordable homes right across London.
You can find out more on RUSS's website.
Why we lend to affordable housing projects
Triodos Bank has financed a range of CLTs across the country, as part of our commitment to supporting affordable housing projects. To find out more, visit our housing page to find out about the lending that we offer to community initiatives.