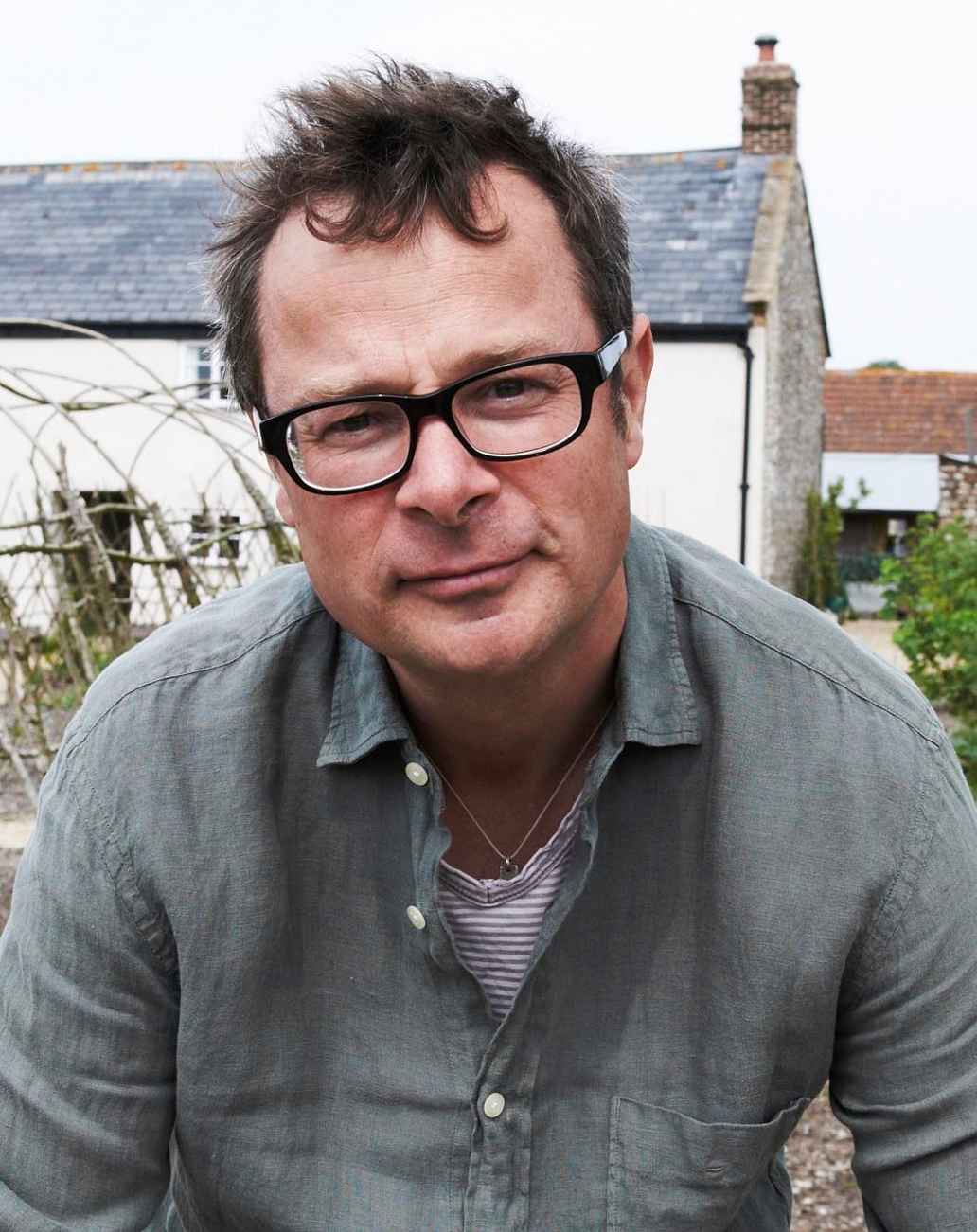 You truly have had an extraordinary life in food. What do you observe about food culture in the UK today?
There is so much to be optimistic about. We have more great cooking and interest in healthy food than ever before, and dependable information is readily available. We're able to debunk old myths and misinformation. On the flip side, I think we probably have more people than ever eating an inferior diet. Often they are not naturally inclined to find out more about food and are getting left behind. We need to look after them and find ways to support them. It's a big responsibility that society and our government has for the future.
You have campaigned on important issues such as food waste and ivory. What do you think the key is to organising a successful campaign?
One thing big businesses are terrified of is losing their customers. Sometimes it's about giving some quite basic information that these companies would rather their customers didn't know. Once you have engaged the consumer and the population at large on the issue, it is then about how they decide to spend their money. That then becomes a choice – almost a form of voting.
What is it you love about organic food?
We are in a real fight for the security of our soil. If we continue to farm the way we do, there may be only 70 or 80 harvests left globally before the soil is effectively useless. Organic farming is one of the great insurance policies against the crazy experiment of chemical farming. With organic we have land that is outside of that system, we know it is secure, and it will continue to act as a benchmark. As a parent, you think even harder about what you feed your kids. For me organic is a label that has real meaning.
In your new book, you have recipes with no cheese, butter, cream, eggs or refined flours. What are your top tips for cooking meals without these elements?
I still eat these ingredients in relative moderation – I'm not saying we should get away from them completely. But I think we need to get much better at making excellent dishes just from vegetables. If we can get that into our repertoire and make delicious food entirely from plants, that is worth it. It doesn't have to be complicated. We can use the simple techniques we use with meat or fish. An oven is a great place for transforming and intensifying flavour and caramelising edges – I struggle to think of a vegetable that doesn't taste great roasted.
And finally, favourite vegetable and why?
As a chef, onions form the base of so many meals. And love aromatic vegetables – in particular, fennel and celeriac! Both are delicious raw, roasted, barbequed, slow-cooked… whatever you do with them. And perfect for soups. You can take them in so many different directions.
Aubergine and tomato gratin, from River Cottage Much More Veg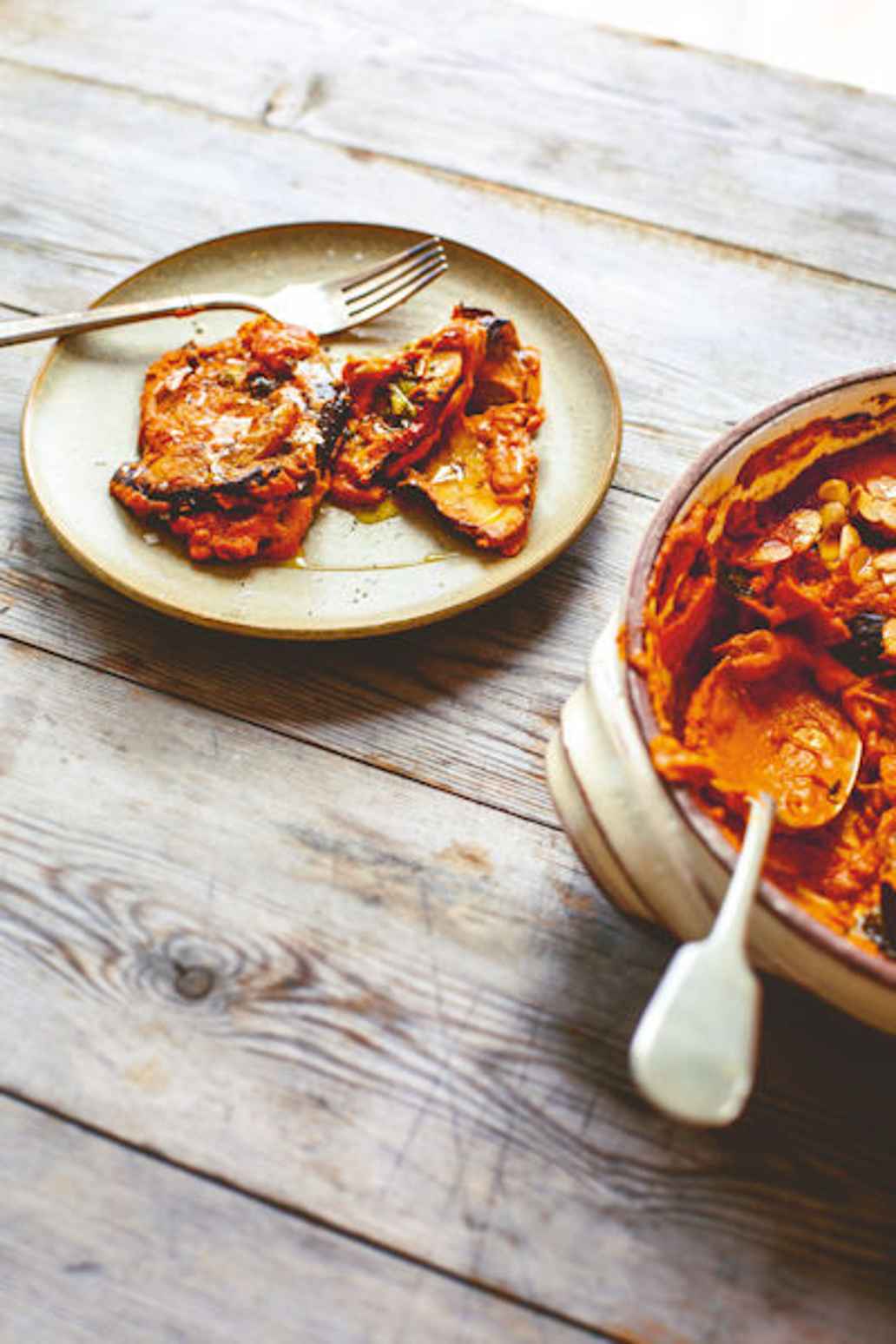 Serve this hearty bake with a green salad on the side, or precede it with a delicious raw dish, such as fennel, melon and basil.
Serves 4

FOR THE AUBERGINE
2 fairly large aubergines (about 700g in total), trimmed
4 tbsp olive oil, plus a little extra to finish
A small bunch of basil (25g), leaves picked from the stems and roughly torn
4–5 sprigs of thyme, leaves picked from the stems
About 30g flaked almonds
Sea salt and black pepper
FOR THE TOMATO SAUCE
2 x 400g tins tomatoes
3 garlic cloves, sliced
75g cashew nuts
1 tbsp olive oil
2 bay leaves
A pinch of sugar
To make the sauce (which you can do ahead), put the tomatoes into a medium saucepan. If you're using whole plum tomatoes, crush them in your hands as you add them, removing any stalky end bits. Add the garlic, cashews, oil, bay leaves and a little salt and pepper. Bring to a simmer and cook, uncovered, for about 20 minutes, stirring regularly.

Remove the bay leaves. Add the sugar and blitz to a purée, using a stick blender or a jug blender. Stir in about 50ml water to thin the purée to the texture of lightly whipped cream. Taste and adjust the seasoning. (If making ahead, cool then refrigerate; reheat gently before using.)

Preheat the oven to 180°C/Fan 160°C/Gas 4. Cut the aubergines lengthways into 5mm thick slices. Heat up a griddle pan (or a barbecue) or preheat your grill. Measure 4 tbsp olive oil into a small bowl and use to brush the aubergine slices on both sides. Griddle or grill the aubergine slices, in batches if necessary, for 2–3 minutes each side, until tender and marked with brown patches or grill stripes, seasoning with salt and pepper as you go.

Layer one third of the aubergine slices over the base of an oven dish (about 2 litre capacity). Scatter over one third of the basil and thyme leaves. Dollop one-third of the tomato sauce over the top and carefully spread it out over the aubergines. Repeat until you have used up all the aubergines, herbs and sauce. Scatter over the flaked almonds and add a final trickle of oil.

Bake in the oven for 30–35 minutes, until bubbling and lightly coloured on top. Let it stand for 10–15 minutes before serving.

Swaps
Veg: Use grilled slices of courgette or roasted slices of squash in place of the aubergine.

Extract taken from River Cottage Much More Veg by Hugh Fearnley-Whittingstall (Bloomsbury, £26) is out now

Photography © Simon Wheeler