Hugh Fearnley-Whittingstall has developed River Cottage HQ into a thriving cookery school, place to stay, events business and – most recently – wellbeing retreat. In addition, there are six River Cottage Kitchen restaurants, cookery books, subsequent TV shows and ongoing campaigning. What began as a small, exploratory venture in Dorset has grown into a successful business with almost 150 employees, spreading the sustainability message far and wide.
Much has progressed but the River Cottage ethos has remained constant. The business has moved from its original home to a 100-acre site on the Dorset-Devon border, in the tranquil Axe valley. Around 20,000 visitors are drawn to this rural idyll every year, where they learn to go slow (seasonal, local, organic and wild) when it comes to food. "The most important thing about the business is educating people. That's the goal, to ensure we're getting the word out about sustainable food and its provenance," says Stewart Dodd, chief executive of River Cottage.
And indeed it is. Among these visitors are enthusiasts who want to experience food as it should be, as well as chefs and others from the food industry. Perhaps the greatest advocates for the business though are its staff. "People are attracted to River Cottage because of Hugh's vision, so all the people who work here are committed to the belief that is River Cottage," says Stewart.
Hugh and his team have a focus on sustainability that extends far beyond food. "We've been aware there's a climate emergency for a long time," Stewart comments. As a result, River Cottage has aimed to be low carbon and to make a very small impact on the environment from its beginnings.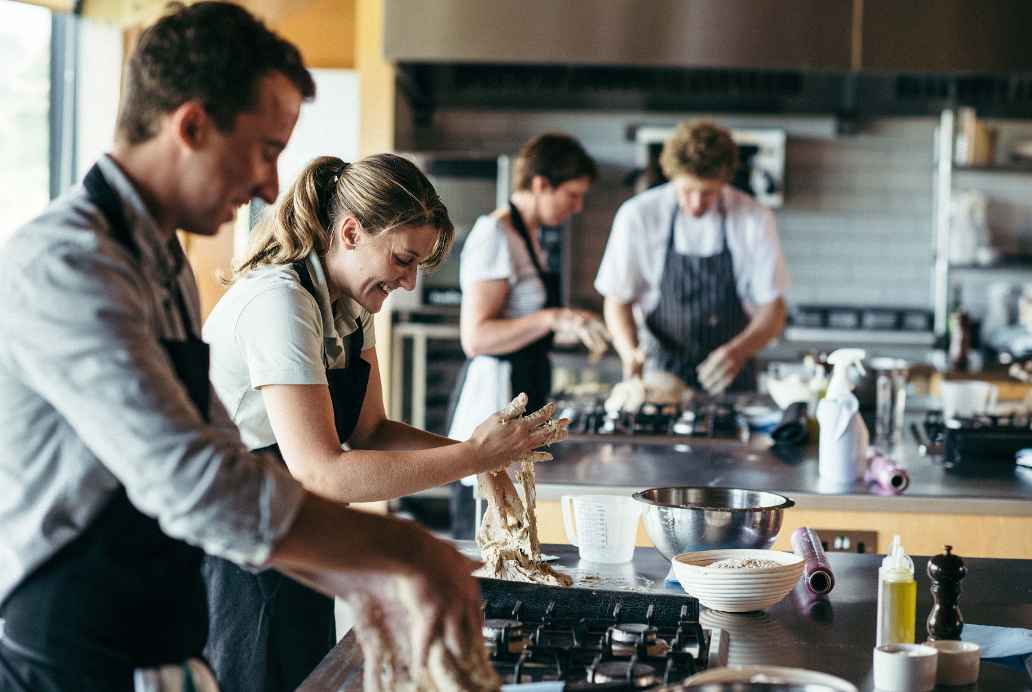 The current HQ has had renewable energy systems – with wind, water harvesting and biomass – from the day it opened. The business is also in the process of removing single-use plastic from its operations entirely, in line with Hugh's efforts to highlight the problem in the recent BBC TV programme Hugh and Anita's War on Plastic. River Cottage has been something of a trailblazer for the last couple of decades but is pleased to see others now catching up, with sustainability on the menu in many other food businesses.
In celebration of all it's achieved, it's marking its 20th anniversary with a year-long celebration. 2019 is proving to be a year packed with exciting events, special guests – from Yotam Ottolenghi to Melissa Hemsley – unique feasts and an extensive course schedule. "As we celebrate our 20th birthday, I am unbelievably proud of what, together, we have achieved," says Hugh.
What's next for River Cottage, a business that's already achieved so much? It's set to expand its accommodation offering and develop an 11-bedroom guest house, alongside its recently renovated farmhouse. It's also focused on widening its product range, working with another Triodos customer, Stroud Brewery, to release two new organic beers this autumn. They'll join its current range of organic drinks and yogurts, all produced by suppliers with similar values to River Cottage. And what about Hugh? He's hosting a TV show with Steph McGovern focusing on health and wellbeing next spring, as well as a follow-up programme on the single use plastic campaign. He has a new book coming out next year, too.
So here's to River Cottage, for providing us with food for thought for the past 20 years, and many more years to come.
How Triodos Bank supports food and farming
Triodos Bank has over 35 years' experience in financing organic, biodynamic and sustainable agriculture – visit our organic farming page to find out more.
The bank has published a new vision paper on food and agriculture systems. The paper calls for a radical systemic transition from the current production-focused systems towards one that is ecologically and socially resilient and based on balanced ecosystems, a healthy society and inclusive prosperity. Find out more about the vision paper.