To give you some food for thought, our friends at Riverford, River Cottage, Soil Association, Helen Browning's Organic and Better Foods have shared some mouth-watering suggestions:
Nutty mushroom Wellington from Better Food
A treat for vegetarian or vegan guests, or a great centrepiece to a plant-based feast. You can buy ready made vegan pastry, but for a real treat, try making coconut short crust pastry.
Ingredients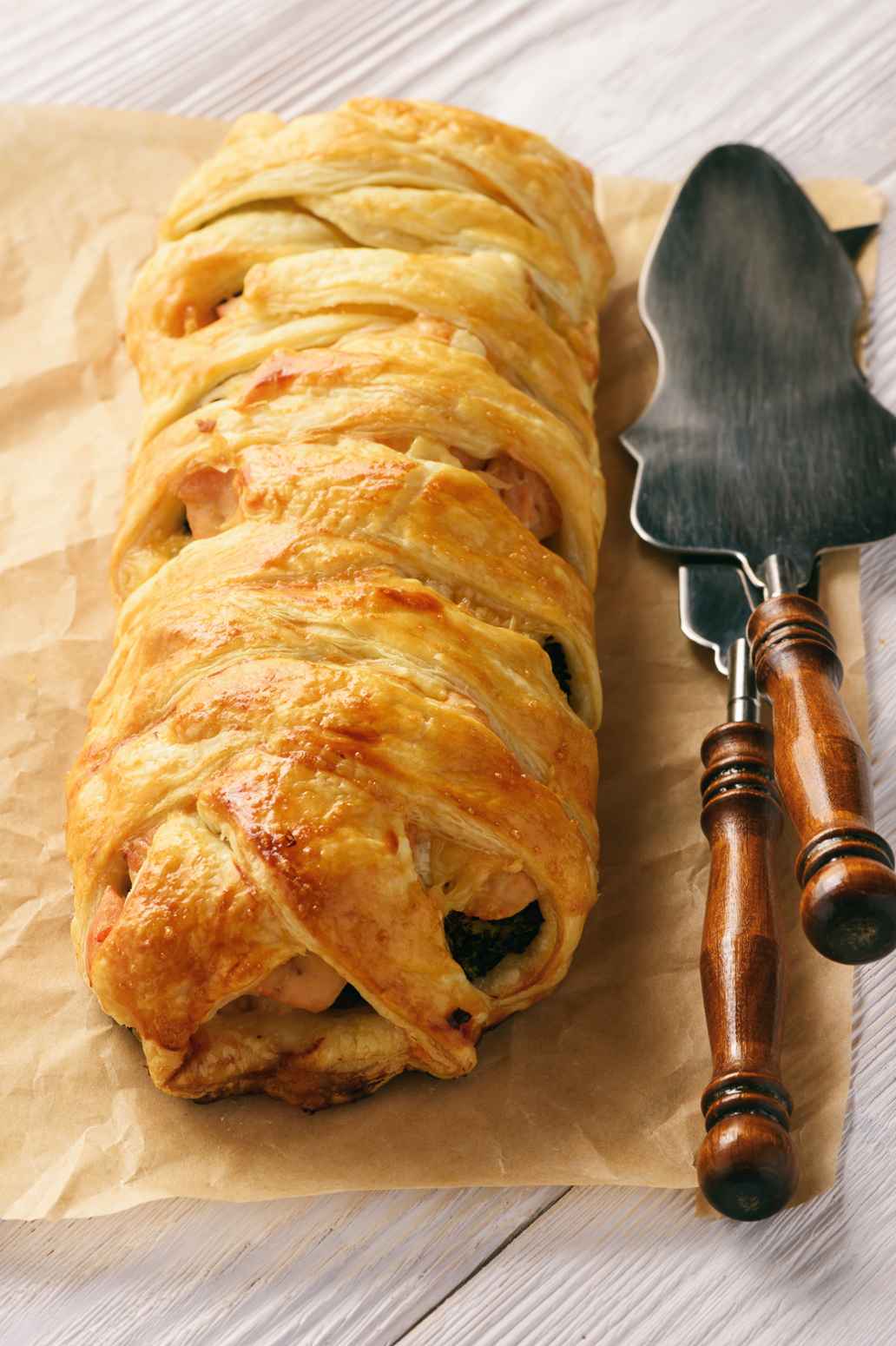 1 tbsp olive oil
2 leeks, chopped
1 head of celery, chopped
3 medium cloves garlic, crushed
bunch of fresh herbs, such as rosemary, thyme or bay leaves (or all three)
200g mushrooms, roughly sliced
200g cooked chestnuts, roughly chopped
½ tsp yeast extract or vegan Worcester sauce
1 tbsp lemon juice
½ jar cranberry sauce (optional)
330g pastry (see coconut pastry recipe)
soya milk for brushing
Method
Fry the leeks, celery and garlic for 5 mins in a large saucepan.
Add the herbs and cook until medium brown, then add the mushrooms and continue to cook on a medium heat until brown.
Add the chestnuts, yeast extract (or Worcestershire sauce) and lemon juice, and mix well. Season to taste. Make sure you remove the bay leaves and any stalky bits of herbs.
Flour a board and roll the pastry into a large rectangle (about 20×30 cm). Carefully move it on to a lightly oiled baking tray. Spread the cranberry sauce on the central part of the pastry, then spoon the mushroom filling into a sausage shape down the centre of the rectangle.
Make diagonal cuts in the pastry 2cm apart on each side of the mushroom mixture, and fold them in together to create the effect of a plait. Tidy and trim the ends of the pastry and brush with soya milk.
Bake in a medium oven (180c/gas 4 conventional oven) for 40 mins, or until the pastry is puffed and golden brown.
Classic roast lamb from Riverford Organic Farmers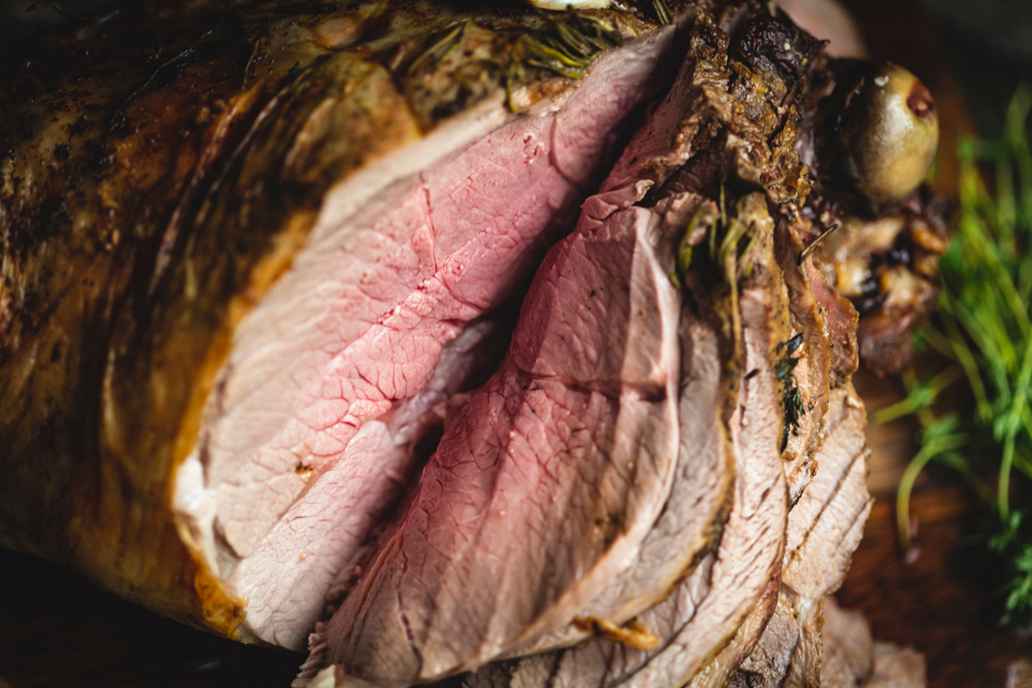 This makes an excellent weekend lunch, especially at Easter. Serve with potato gratin, or surround the lamb with peeled and thinly sliced potatoes and onions in a little stock and let them infuse with the meat juices during cooking. Drizzle the lamb in balsamic vinegar before cooking to give a caramelised tang.
Ingredients
1.8kg leg of lamb

4 garlic cloves, thinly sliced

4 sprigs rosemary

8 anchovies, sliced lengthways (optional)

salt and pepper
Method
Preheat oven to 200°C/Gas 6. Score the surface of the lamb in a diagonal fashion to create lattice lines down to the flesh. Then insert the garlic, rosemary and anchovies at the crossing points: a little tiresome but well worth it.

Season the meat well, salt on the fat, pepper on the meat, and dust with a little flour.

Place in the oven for 15 minutes. Reduce the oven to 170°C/Gas 3½ and cook for 3-3½ hours, until cooked to your liking. If the top looks like burning, cover with foil.
Roast organic asparagus and bacon from Helen Browning's Organic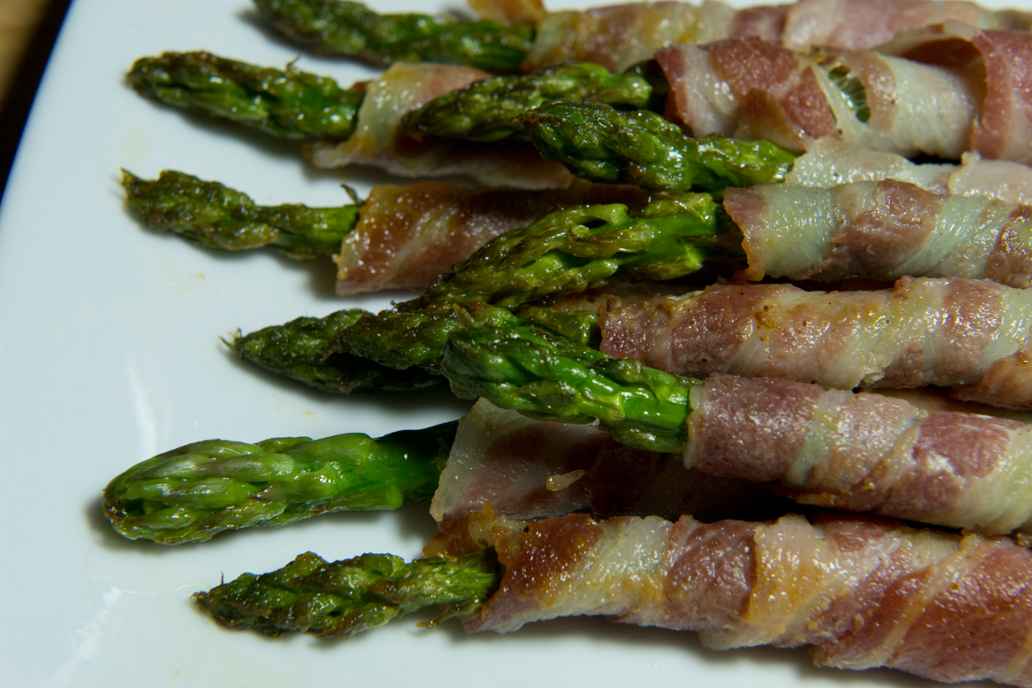 This simple recipe is a tasty way to sample seasonal asparagus.
Ingredients
Helen Browning's Organic streaky bacon
organic asparagus

salt and pepper
Method
Toss the asparagus in a little olive oil and wrap generously in bacon.
Season with salt and pepper.
Roast in the oven for 10-15 minutes at 200ºC, Gas mark 6, or until the bacon is crispy.
Kefir Hot Cross Buns

from Soil Association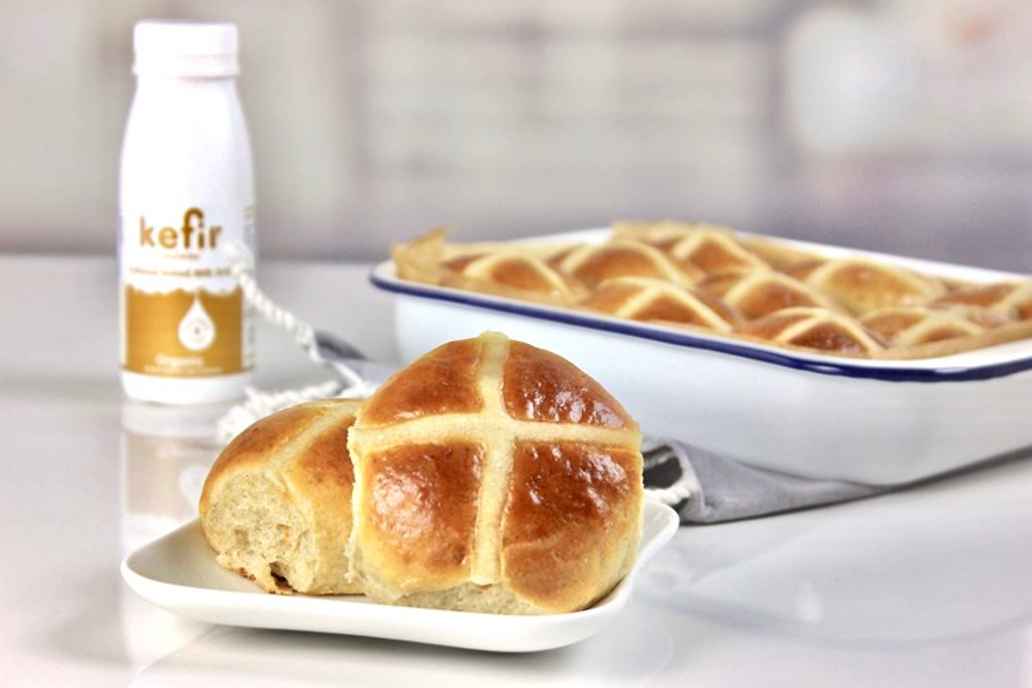 You can't beat a hot cross bun at Easter. This easy to follow recipe is also packed with organic Kefir, so whilst you're getting your fingers sticky you can also get your fix of live, gut-friendly bacteria.
Ingredients
250ml Bio-tiful Kefir or Baked Milk Kefir
30ml water
450g strong white flour, plus extra for dusting
60g soft unsalted butter
1 medium egg
80g sugar
1 tsp sea salt
2 tbsp ground sweet mixed spice
7g sachet fast-action dried yeast
1 orange, zest only
120g sultanas or raisins
Top Decoration:
50g plain flour
40g water
1 tsp vegetable oil
Apricot jam for glazing
In a small bowl, combine the sultanas or raisins with 1 cup of boiling hot water. Let it sit for 10 mins then drain well and set aside.
In a cup, combine very warm water with a pinch of sugar and a pinch of flour, sprinkle yeast over the top. Stir and let sit at room temp until bubbly and doubled in volume (10 min).
Add the Kefir or Baked Milk Kefir, warm water, egg, sugar bowl and mix well.
Sift the flour into a large bowl, then add 1 teaspoon of sea salt, the ground sweet mixed spice, the sugar, orange zest and stir it into the mix.
Make a hole in the centre and pour in the Kefir mixture, followed by the yeast mixture and soft unsalted butter, mix together. Use a wooden spoon to stir, then turn out onto a well-floured surface and knead for around 10 minutes until soft and springy. Carefully work the mixed dried fruit into the dough until well combined. Knead lightly for 2 minutes.
Return the dough to a bowl, cover with a damp tea towel and leave to proof in a warm place for at least 2 hours or until doubled in volume.
Line a 31.5 x 23.5 cm / 9 x 13" tray with baking paper with overhang.
Transfer the dough to a clean flour dusted work surface. Knock the air out by bashing it with your fist. Divide the dough into 12 equal pieces and roll each into a ball.
Place the ball with the smooth side up on the tray. Line them up 3 x 4.
Cover with the tea towel and leave in a warm place for a further 1 hour, or until triple in size.
Place the plain flour, 40ml water and 1 tsp vegetable oil into a small bowl and mix to a thick paste.
Preheat the oven to 190C/375F/Gas 5.
When the buns have risen, take the baking paper and the piping bag. Spoon the flour mixture into a piping bag and pipe a cross on each bun.
Transfer the buns to the oven and bake for 16-19 minutes, or until pale golden-brown. As soon as you remove the buns from the oven, brush them with the hot apricot jam, then set aside to cool on a wire rack.
Ten-minute chocolate chip cookies from River Cottage
It's not Easter without chocolate - these chewy, vanilla-rich treats are easy-peasy, taking no more than 10 minutes to make, and 10 to bake. Ideal when people turn up unexpectedly for tea, they are also a mainstay of rainy afternoon cooking sessions with the kids. No batch has ever been known to last till the next day.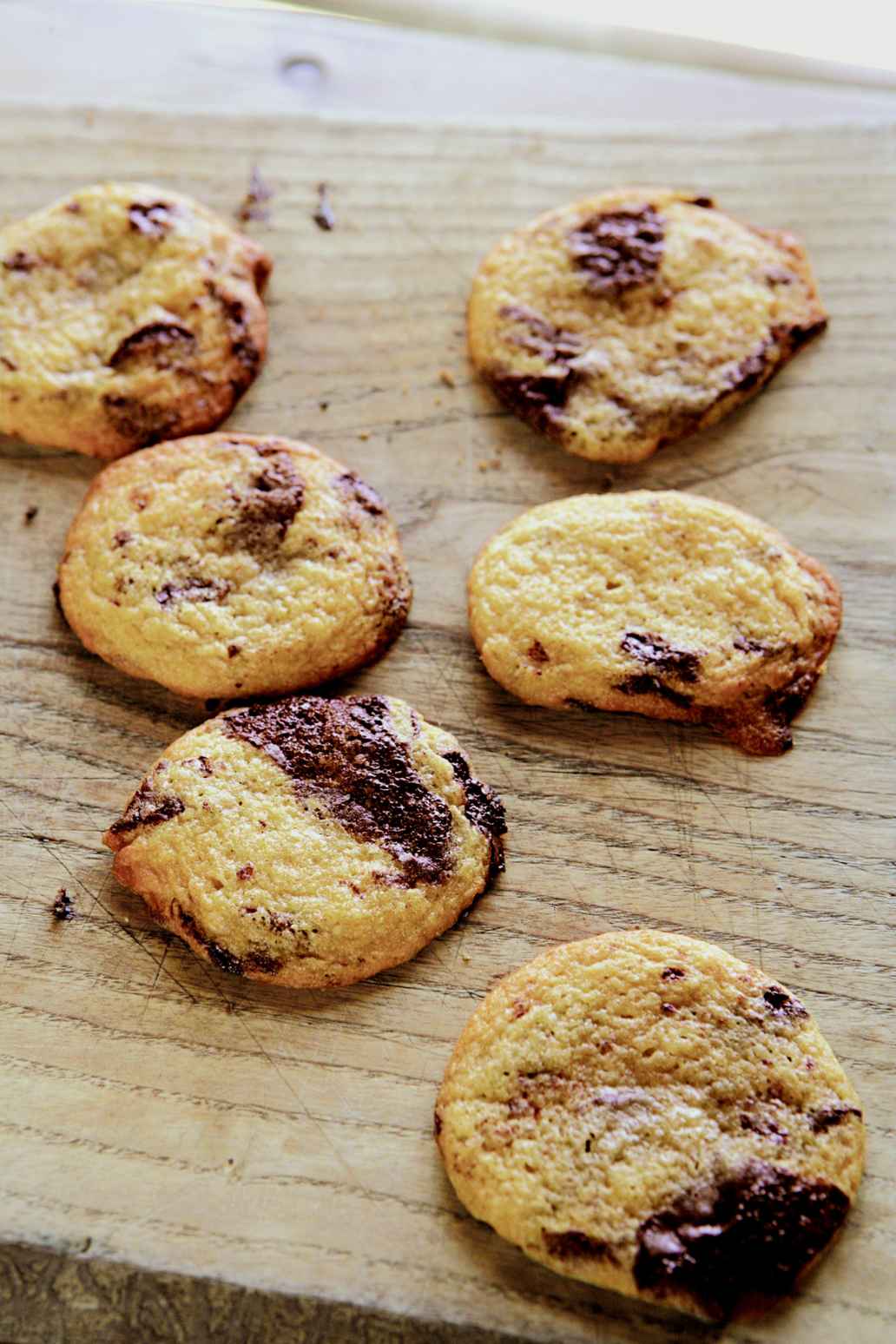 Ingredients
125g unsalted butter
100g caster sugar
75g soft light brown sugar
1 medium egg, lightly beaten
2 teaspoons vanilla extract
150g plain flour
½ teaspoon baking powder
A pinch of sea salt
100g dark chocolate, chopped into smallish chunks (we use Fairtrade)
Method
Gently melt the butter in a small saucepan. Put both sugars into a mixing bowl, pour in the melted butter and beat well with a wooden spoon. Beat in the egg and vanilla. Sift the flour, baking powder and salt into the bowl and stir them in, then add the chocolate. You should have a pretty sloppy sort of mixture.
Dot heaped dessertspoonfuls of the mixture on to 2 baking sheets lined with baking parchment, leaving a good 4cm in between each one as they really spread out. Place in an oven preheated to 190°C/Gas Mark 5 and bake for 8–10 minutes, until the cookies are turning pale golden brown.
Remove from the oven and leave on the baking sheets for a couple of minutes to firm up. Then carefully lift the baking parchment on to a wire rack and leave to cool completely. Inevitably they will be eaten as soon as they are cool enough not to burn fingers.
Why we finance organic food
Organic agriculture recognises the relationship between our environment, our health and the food we eat. As well as high animal welfare standards, organics avoids the use of pesticides and chemical fertilisers and helps to revitalize the earth.
And, because organic farming releases less greenhouse gases than non-organic farming, it means a smaller carbon footprint for the environment. Lending in this sector varies from dairy and meat, to forestry and fruit.