Founded in 2019, Edinburgh-based Ember is planning to disrupt the status quo of coach travel and create a fully electric and tech enabled future for public transport. "Building our technology from the ground up means we are optimising everything around a fully electric fleet," says Pierce Glennie, one of Ember's co-founders. "This allows us to offer lower prices and a better service, all with zero emissions."
The Dundee-Edinburgh journey, Ember's first route, is set to take just over 90 minutes one way and will allow residents and tourists to enjoy an affordable, comfortable and zero-emissions option on a route that is currently underserved.
Talking about his aims for the route, Pierce adds: "We're hoping to give passengers a taste of the future and show them that unreliable, shaky coaches are a thing of the past." Bookings can be made online and travellers will be able to track the bus in real-time using an app on their phones.
Ember is looking to use its initial two-coach pilot to prove that the technology, operational capacity and demand for electric coach travel is viable. It plans to open up further routes in the future and continue to be a trailblazer in the sector. For example, the company plans to integrate its network with 'final mile' transport – bikes, scooters, taxis and more – to make the whole journey from A to B seamless.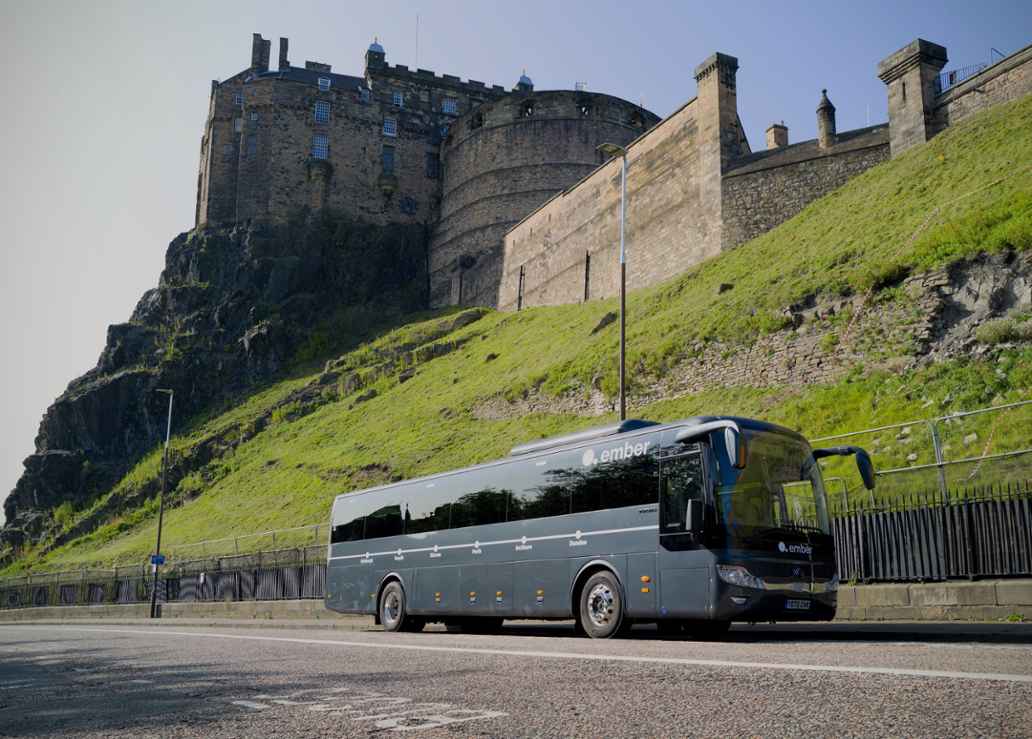 Support for a greener vision
The Dundee-Edinburgh launch has been supported by Dundee City Council from the outset, as part of its mission to decarbonise transport in the city. It has assisted in providing a brand new ultra-fast charging point in the city centre, allowing Ember to charge its coaches efficiently when they are turned around.
"I am delighted that Dundee should again be chosen by industry pioneers as the place to pilot another first-in-class development in electric vehicle use," explains Councillor Mark Flynn, convener of Dundee City Council's city development committee. "The new charging infrastructure recently installed in the city allows their vision of a large passenger-carrying vehicle travelling more than 100 miles on a single charge to become a reality, and I can't wait to see the service up and running."
The purchase of the two electric coaches has been supported by lending from Triodos Bank UK. This finance has allowed the company to launch with two coaches, rather than one, giving Ember the opportunity to run a more frequent service from launch.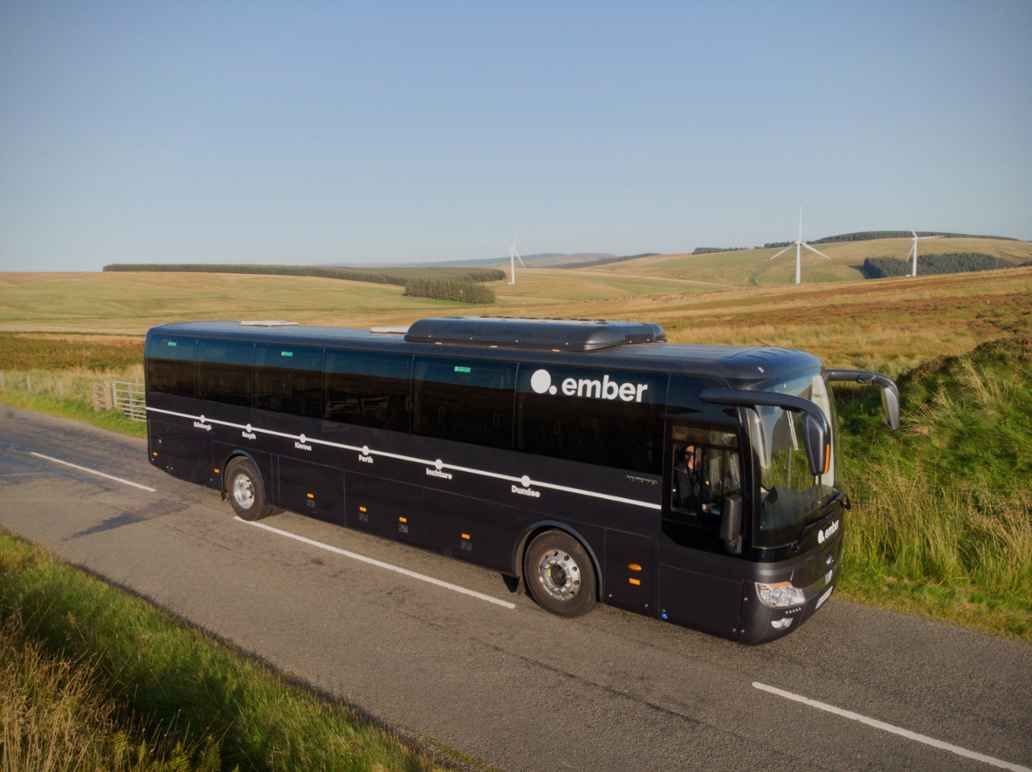 Philip Bazin, environment team manager at Triodos Bank UK, explains why the bank chose to support Ember. "To be a part of such a pioneering project is of great excitement to the bank," he says. "Supporting the transition to a low carbon economy is a fundamental objective for us as a lender, and Ember is a brilliant example of an organisation taking advantage of the latest technology to offer customers high-quality, environmentally sound transport options."
Ember accessed its funding through the Coronavirus Business Interruption Loan Scheme (CBILS), which was set up by the government to provide financial support to SMEs while offering lenders a government-backed guarantee.
The company met the necessary criteria in that it is a viable UK business that has been adversely impacted by the Covid-19 outbreak: Ember was expecting delivery of its first vehicle in March, but due to the global pandemic, the delivery was set back by six months as the supply chain was disrupted.
"Working with Ember really embodies why we became accredited with CBILS," adds Philip. "We knew that we were well placed to offer finance to values-based organisations that had been affected by Covid-19 and the scheme provided us with an opportunity to work with new impactful customers, who may have never crossed our path previously."
The road ahead certainly looks exciting for Ember and the transition to zero-carbon transport.
Why we finance environmental infrastructure projects
Triodos Bank has a strategy to support the transition towards 100% smart clean energy systems, the wider decarbonisation of our economy and protecting and enhancing our natural capital.
Read more about our strategy in this article from Itske Lulof, director of energy and climate at Triodos Bank. You can also read about our lending to Pod Point, one of the UK's largest providers of electric vehicle charging.
Visit our environmental technology page to find out more.