Businesses have endured another year of challenges resulting from Covid-19 and the impact of Brexit – having to deal with disrupted supply chains and labour shortages, and now with spiralling costs.
But the UK organic sector has put in a stellar performance – showing exceptional resilience and growth and smashing the £3 billion mark in 2021 for the first time ever. Since 2019, so before the pandemic, the organic market has seen an amazing 23% growth. It has consistently outperformed the non-organic market over the course of the last two years. Growth has been across all sectors, food and drink, beauty and wellbeing and textiles.
This is the tenth year of consistent growth and shoppers are now spending almost £60m every week on organic food and drink.
There are still challenges ahead, but we're really excited about breaking that barrier and seeing organic both becoming more available and more citizens actively looking to make choices that are better for them and for the planet.
It's clear that organic has a key role to play in restoring the health of nature, people, and the planet – and shoppers really do seem to be realising that. We have a growing and committed core of customers who are increasingly prioritising sustainability and health, and as life returns to a more normal footing, sticking with those choices
Health and the environment have really become embedded as long-term trends in people's thinking – people want to know where their food is coming from, and they want guarantees that their choices will help restore nature and the climate.
They want to know that they are spending their money in a manner that will not harm the planet and which will help wildlife to recover, will be good for the soil and kinder to animals across all aspects of their lives.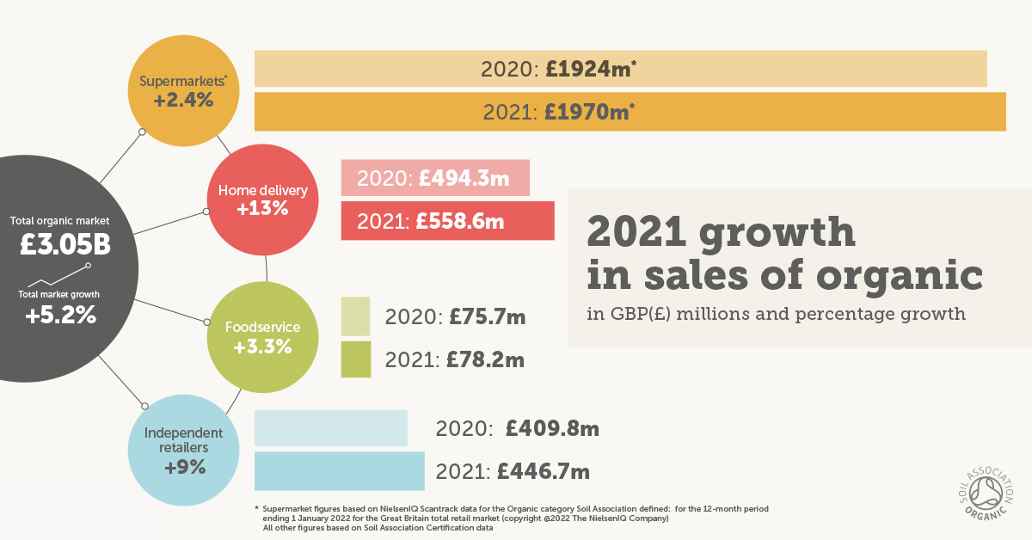 Local and online shopping including box schemes have been big drivers of the growth organic has seen over the last two years. During the pandemic people started to shop in different ways, looking to their local producers and online shopping boomed. In the last year alone online and box schemes have seen sales increase by 13% to £558m but when you look at the growth since 2019 when sales were £362.9m it is massive 54% - in just two years.
Discovering your local organic producers and retailers allows you to find out more about how your food or beauty products have been produced. And online affords organic the chance to show off a bit. It provides the space to display a bigger range of choice and to tell the story behind the product by explaining where it's come from and what care has been taken to create them. Over one in four organic products now are sold online and many organic brands also now have their own online shops.
The supermarkets still command 64% of organic food market. Their sales increased by 2.4% in 2021 including home delivery and Sainsbury's, Waitrose & Partners, Tesco and M&S really got behind organic giving increased space and marketing across the year as well as a big focus for Organic September; the key month for organic.
Independent retail, the cornerstone of organic, had a mixed year with City centre locations suffering from lack of footfall but neighbourhood stores growing. Stores report more younger customers coming in, looking again to make healthier choices and sales of fresh foods have increased.
We know that the food service sector had another really challenging year due to the lockdowns and lower footfall in city centres but sales did increase by 3.3% which shows that organic is playing an increasing role for many as they strive to differentiate in a difficult market. In store cafes in the Independent stores have seen an increase in diners as people were able to be out and about again.
Organic non-food has also seen strong growth in both organic and natural beauty and wellbeing products where sales are up 15% at £135m and fantastic growth in organic textiles – here sales of Soil Association Certified businesses are up 39% at £68m on the previous year. Demand is outstripping supply of certified organic cotton, as more brands and retailers commit to sourcing organic cotton as part of their sustainability strategies.
It is vital that as responsible producers and processors, the organic sector continues to support people's sustainable choices by continuing to innovate and advance the quality and range of products that we offer. So long as we stay true to our principles of fairness – health and sustainability – it seems certain organic will continue to rise.
Rising costs are a concern for everyone both shoppers and businesses. But the more available that organic is, the more affordable and accessible it becomes to people. More websites, stores and supermarkets are increasing their ranges, which is a great sign.
Government policy is also steering towards more organic principles, with large increases in the payments organic farmers receive from government starting this year, and new financial incentives for practices that protect soils and wildlife, which are at the heart of organic.
Within the National Food Strategy, Henry Dimbleby recommended a large-scale shift to agroecological farming. We know that organic is the best example of this nature-friendly model of farming, and it's already regulated and rising in popularity, so we hope to see government include organic in its response to Mr Dimbleby's advice.
UK organic producers, brands processors and retailers are in the vanguard creating sustainable and healthy businesses. They have proven themselves resilient and innovative enough to meet the growing demand for products which support health and the environment. And we know this trend is not going anywhere - organic reflects shopper's values, their desire for provenance, traceability and products which are kinder to the planet.
About Soil Association
Soil Association is an environmental charity promoting sustainable organic farming and championing human health. Its not-for-profit subsidiary Soil Association Certification inspects and certifies the largest number of registered organic farms and businesses in the UK – as well as certifying and inspecting a number of forestry schemes in countries worldwide.
Visit its website to find out more and download the Organic Market Report.
Refer a Friend and support the Soil Association
If you already bank with Triodos, we'll donate £25 directly to the Soil Association for each new Triodos Current Account customer who joins on your recommendation.
Refer your friends and family
Your recommended friends can choose to donate £60 to the Soil Association too (so a potential donation of £85 between you). Alternatively, they can choose to receive a gift voucher when they open an account with us. Eligibility, terms and conditions apply.
Together, we can change banking for good and provide more power to the Soil Association's vital campaigning work.