Significant growth in UK ethical investment market is driven by more investors wanting their money to contribute to positive change.

More than half (55%) would like their investments to support companies that contribute to a more positive society and sustainable environment.

A fifth (19%) of UK investors say they are planning to invest in an SRI fund.

But 73% of investors say that they have never been offered ethical investment opportunities.

Millennials drive 'resist investing' trend, with more than half (56%) investing in an ethical fund as a result of something bad happening in the news.
The UK market for socially responsible investing (SRI) is expected to grow by 173% to reach £48bn by 2027 [1]. Triodos Bank's latest Annual Impact Investing survey reveals that a fifth (19%) of UK investors are planning to invest in an SRI fund in the coming years, rising to almost half (47%) of investors aged 18-34. As this new generation of socially conscious millennial investors see increases in their incomes, the research predicts a 'tipping point' of accelerated growth from 2023.
Appetite for impact investment opportunities and greater transparency is high – particularly among female investors, though there remains uncertainty when it comes to the options available. The survey reveals that:
More than half (55%) of investors would like their money to support companies that contribute to making a more positive society and sustainable environment. This figure rises to 58% among female investors.

61% of investors believe that for the economy to succeed in the long-term, investors need to support progressive business tackling the big issues we face.

But 73% of UK investors have never been offered ethical investment opportunities and 61% would not know where to go for more information on SRI.

More than two thirds (69%) of investors would like to have more knowledge and transparency about where their money goes when investing. This is significantly higher among women (74%) than men (65%).
The survey points to a trend of 'resist investing', particularly among younger investors. A third (30%) of investors are motivated to invest in an ethical fund because of events in the news, rising to 56% of investors aged 18-34. This age group cites natural / climate change-related disasters (14%); the 2008 financial crisis (14%); and the fossil fuel divestment movement (13%) as their biggest stimuli.
Bevis Watts, managing director of Triodos Bank UK, said: "Demographic changes, social media and awareness of the challenges facing our planet mean that investors are waking up to the fact that there really is no such thing as a neutral investment. Every investment has an impact on individuals, society and the economy."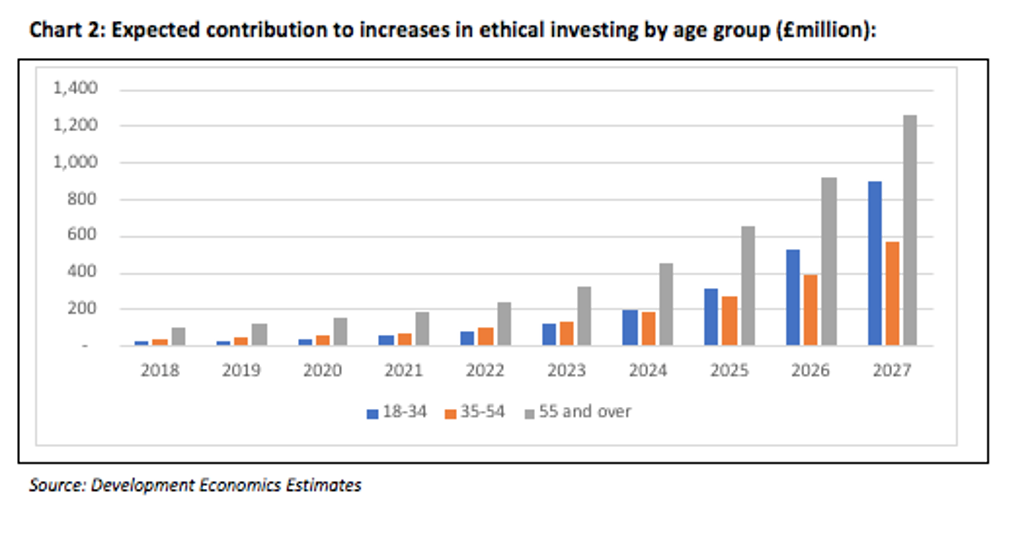 The survey highlights a concern among investors that the 'mainstreaming' of impact investing is leading to it being watered down by some fund managers. Almost half (45%) of investors are worried that some investment funds labelled as SRI are in fact still investing in companies which have a negative impact on society or the environment. Over a third (39%) think SRI funds need to have a tighter criteria.
Bevis Watts adds: "The Socially Responsible Investing (SRI) market is growing quickly but we must be careful that it isn't just labelled as sustainable investment on the surface. Otherwise it might come down to just doing things slightly less badly. A best-in-class investment in the tobacco or arms sector is not going to help make our society more sustainable. We encourage all investors to seek out funds that are not only best-in-class, but that apply strict sustainability criteria."
Triodos is currently supporting a government taskforce examining issues like product standards and transparent reporting. [2]
In the survey, investors are clear about which industries they would not consider investing in, citing the following top five issues and sectors:
Manufacturing or selling of arms and weapons (38%)

Worker / supply chain exploitation (37%)

Environmental negligence (36%)

Tobacco (30%)

Gambling (29%)
Natasha Hurley, campaign manager at a London-based NGO,commented: "When choosing to invest through Triodos, my primary concern was to find a bank that was working for positive social and environmental change. That said, more evidence is pointing to the fact that responsible investing also gives higher returns. I like the idea that I can invest in new technologies that are helping to solve some of society's biggest problems. For me it's a win-win that my money is being used in a way that benefits both society and me financially."
Triodos Bank offers two award-winning Socially Responsible Investment (SRI) funds in the UK – the Triodos Sustainable Pioneer fund and the Triodos Sustainable Equity fund. The Triodos Sustainable Pioneer fund is a global equities fund investing in small and medium-sized listed companies that are focused on the sustainable themes of climate protection, healthy living and clean planet, or are pioneers in corporate social responsibility. Examples include wind turbine manufacturer Vestas, First Solar, Shimano, Wessanen (Kallo/ Clipper Tea), packaging company DS Smith, sustainable building products company Kingspan and Bridgestone tyres.
Long term performance of the funds show an average annual return of 10.5% for the Triodos Sustainable Equity fund and 11.4% return with the Triodos Sustainable Pioneer fund over a 5 year period.
Important information: With SRI funds, capital is at risk and the value of an investment can fall as well as rise, income is variable and not guaranteed, and individuals may get back less than invested.
Investing in the funds on offer from the UK branch of Triodos Bank NV is available only to UK residents aged 18 years of age or over. This press release aims to provide individuals with information to help them make an informed investment decision and is not personal financial advice. If individuals are unsure of how suitable an investment is for them, they are recommended to seek independent financial advice. Regulations, including tax rules are subject to change and the value of any benefits depend on an individual's financial circumstance.
Both the Triodos Sustainable Equity Fund and the Triodos Sustainable Pioneer Fund are denominated in GBP however the Investment Manager invests based on Euro amounts, and any dividends paid are converted back from Euros to sterling. As such an individual's total return is subject to the euro-sterling exchange rate at the point of transaction. Individuals are also exposed to exchange rate fluctuations in the regions in which the funds invest.
-Ends-
[1] Forecast based on a estimate of growth along the accelerated trajectory in line with latest survey data. Analysis conducted by Development Economics, August 2018.
[2] Industry pledges support for social impact investing taskforce
For more information about the funds, please visit the ethical investments page of the Triodos website
Media contacts
For more information, please contact:
Ed Grattan
T: 0117 311 0229
M: 07817 413 792
[email protected]
About the research
A nationally representative sample of 2,020 UK adults (aged 18+) were surveyed by Opinium Research on behalf of Triodos Bank between 2-8 August 2018.
About Triodos SRI Funds
The Triodos Sustainable Pioneer Fund has previously been named best performing fund over three years in the Thomson Reuters Lipper Awards (Equity Global Small and Mid Caps category).

The Triodos Sustainable Pioneer Fund has achieved a rating of 5 stars from specialist ethical analyst 3D Investing. The Sustainable Equity Fund received 4 stars.
About Triodos Investment Management
Triodos Investment Management connects a broad range of investors who want to make their money work for lasting, positive change with innovative entrepreneurs and sustainable businesses doing just that. In doing so, Triodos IM serve as a catalyst in sectors that are key in the transition to a world that is fairer, more sustainable and humane.
With Triodos IM's highly professional investment teams, they have built up in-depth knowledge throughout their 25 years of impact investing in sectors such as Energy & Climate, Inclusive Finance, Sustainable Food & Agriculture, and Sustainable Real Estate. Besides the direct impact investments in these sectors, they also invest in Socially Responsible listed companies that support the transition to a sustainable society. Assets under management as per 30 June 2018: EUR 4.2 billion.
Triodos Investment Management is a globally active impact investor and a wholly-owned subsidiary of Triodos Bank NV.
About Triodos Bank
Triodos Bank is a global pioneer in sustainable banking using the power of finance to invest in projects that are good for people and the planet. Triodos uses its €15.1 billion (2018) in assets to create social, environmental and cultural value in a transparent and sustainable way.
With UK operations based in Bristol, Triodos Bank has branches in the Netherlands, Belgium, Spain, Germany and an agency in France. Globally, Triodos Bank has microfinance projects in Central Asia and Eastern Europe, and is a founding member of the Global Alliance for Banking on Values (GABV), a worldwide network of 54 banks seeking to transform finance into a vehicle of positive influence.
Triodos Bank NV (incorporated under the laws of the Netherlands with limited liability, registered in England and Wales BR3012). Authorised by the Dutch Central Bank and subject to limited regulation by the Financial Conduct Authority and Prudential Regulation Authority. Details about the extent of our regulation by the Financial Conduct Authority and Prudential Regulation Authority are available from us on request.