One in three mouthfuls of our food are made possible by bee pollination. Yet over half of UK bee species have declined in the last 50 years, with 35 species under threat of extinction. Triodos customer Neal's Yard Remedies has a plan to bring bees back from the brink.

Bees are big business. The UK's busy bee populations are hard at work year-round to pollinate flowers and plants and because of this, they are a vital part of a healthy environment. In addition, bees' pollination is the beginning of life for most of the food we eat. Friends of the Earth estimates that bees provide £1.8 billion in free services to the UK food economy — that's how much it would cost farmers to pollinate their crops without bees. Not only is a busy bee beautiful to behold, their activity is essential for our very existence.

But business has been bad for bees. Primarily due to intensified farming, the UK has lost 97% of its wildflower meadows in the last century. Combine this with increased use of pesticides required by this type of agriculture, and the results have a devastating impact on bee habitats.

An encouraging development is that some businesses have come to the bees' defence. Neal's Yard Remedies — known for its line of natural and organic health and beauty products — have started to turn the tide in a big way. It's Help Save the Bees campaign originally launched in 2011, but Neal's Yard Remedies' commitment to the natural environment dates 30 years prior to this.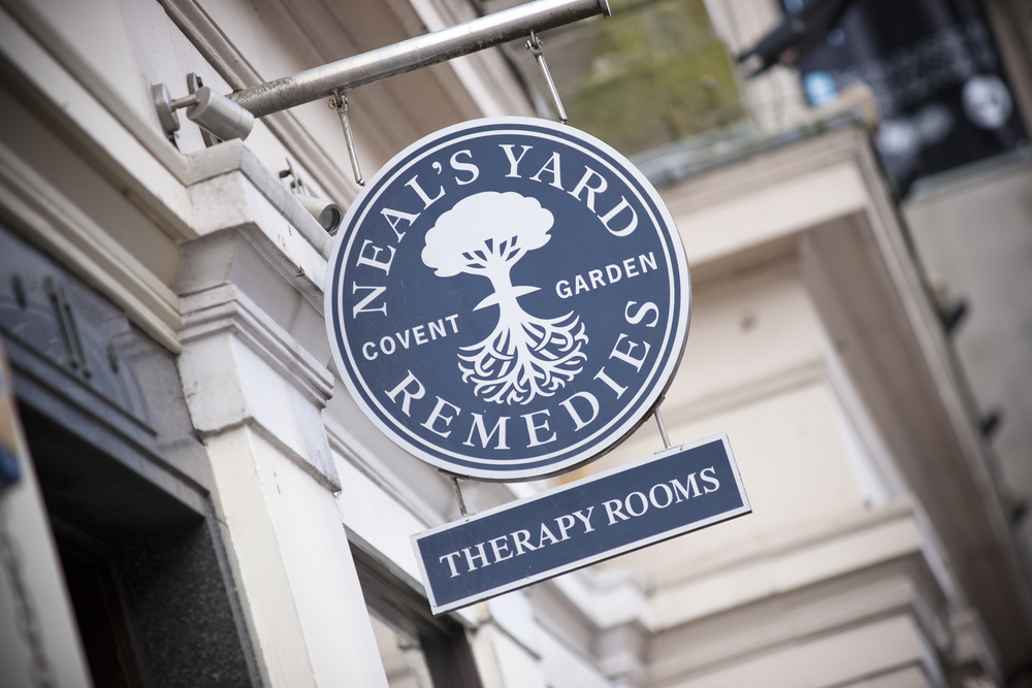 Founded in 1981 in a once forgotten corner of Covent Garden in London, Neal's Yard Remedies was one of the first to push against the synthetic chemical approach to skin and health care. Driven by the belief that beauty should be natural, the business has always been committed to holistic health and organic products. As a result, Neal's Yard Remedies uses organic ingredients wherever possible: 92% of their key natural ingredients are certified organic.

This commitment to organic sourcing has an indirect impact on bee populations. Studies have shown that organic farmland has 50% higher bee biodiversity than non-organic land. As demand for organic products increase, more farmers will be able to make a living through organic farming. An increase in organically farmed land will help bees flourish.

Neal's Yard Remedies is having a direct impact as well. It's Bee Lovely product range uses certified organic honey, beeswax and propolis (a mixture that bees produce to seal open spaces in the hive) to provide naturally nourishing skincare. This has resulted in injecting tens of thousands of pounds into the organic honeybee industry alongside a boost for organic certification for bee ingredients — supporting bee welfare and organic beekeepers.
Additionally, every Bee Lovely purchase supports bee-friendly charities, with the campaign having donated £120,000 so far. In the UK, the campaign has supported Plantlife in working to maintain wildflower meadows, supporting the upkeep of around 50 hectares this year. Neal's Yard Remedies has also partnered with Friends of the Earth to distribute wildflower seeds through their network of 59 retail stores. Internationally, Bees For Development trains beekeepers to install and maintain hives in Ghana. So far, 52 colonies have been placed with 13 women farmers, and they are funding 125 more growers to install 425 more colonies by 2021.

In all, Neal's Yard Remedies' aim is to be supporting 50 million bees internationally by 2020.

"Supporting bees isn't an add-on for us," says Dom Winter, campaign project manager at Neal's Yard Remedies. "It's a key part of our supply chain — something that is both passion and business plan."
It's also part of a wider strategy to do business in a responsible way. "From our commitment to never test products on animals to our status as the first high-street retailer in the world to be certified under the CarbonNeutral protocol, we want to be a Regenerative Business," says Dom.

Neal's Yard Remedies shows that business isn't a separate issue to bees. Their commitment is simply part of being a company that wants to use their operations for good, and to see both the economic and natural environments flourish together. As bees begin to make their comeback, it will be an indicator that companies like Neal's Yard Remedies is right on track.

CV
NEAL'S YARD REMEDIES
Neal's Yard Remedies is a multi-award-winning organic health and beauty company. With the help of Triodos Bank, Neal's Yard Remedies has grown substantially and is now one of the UK's leading organic brands, offering the largest selection of organic, natural and low-preservative beauty products in the UK.