The annual UK gathering of Triodos customers, members of the public and sustainability leaders had plenty to discuss from the past year. The new extension of St George's Bristol – which was financed in part by a loan from Triodos Bank – was buzzing with hundreds of attendees keen to talk about recent climate change protests, ethical finance and economic challenges.
After a surprise performance from musician Kate Dimbleby, which set the stage for an afternoon focused on harmony, the audience were treated to insights, thought-provoking statistics and ideas to make positive change in the UK and globally.
Making change possible
Bevis Watts, managing director of Triodos Bank UK, opened the afternoon's proceedings with an introduction to the theme, saying: "The concept of harmony and finding a better balance of a more sustainable and fairer society is what Triodos aspires to contribute towards. The essence of Triodos is that every consideration of who we lend to or work with starts with a discussion on what it is we are trying to achieve together and what the environmental, social or cultural outcomes are that we are looking to deliver."
Pierre Aeby, chief financial officer of Triodos Bank N.V., visiting from the head office in the Netherlands, described how lending by the bank last year financed 513 projects in the sustainable energy sector, 3,600 artistic and cultural organisations, 550 education initiatives and 35,000 hectares of organic farmland.
This was brought to life as a selection of organisations explained how they are using finance from Triodos Bank UK in their work to change the world. Hosted by Natalie Fee, founder of City to Sea, the room heard from four customers – Fishtek Marine, a conservation technology company raising money on the Triodos Crowdfunding site; Kids Allowed, a Manchester-based nursery group; and Bristol charity 1625 Independent People.
Although from a broad range of sectors, the speakers all emphasised the power of finance to generate change and how important it was for like-minded organisations to work together.
Guests arrive at St Georges Bristol

The auditorium at St Georges Bristol

Bevis Watts, Triodos Bank managing director; Pierre Aeby, CFO; Judy Rose, head of operations; Huw Davies, head of retail banking; and Zoe Sear, head of marketing and communications

June Sarpong on stage

Bevis Watts, Triodos Bank managing director; Mark Adams, managing director of Vitsœ;

Sing with Soul perform
Valuing harmony
The main panel discussion was hosted by author and broadcaster June Sarpong, who kickstarted proceedings by sharing personal stories that focused on a key element of harmony for her – diversity. Drawing inspiration from her book Diversify, June spoke about how she had looked to tackle her own unconscious bias and warned about "what we lose out on if we limit ourselves as a result."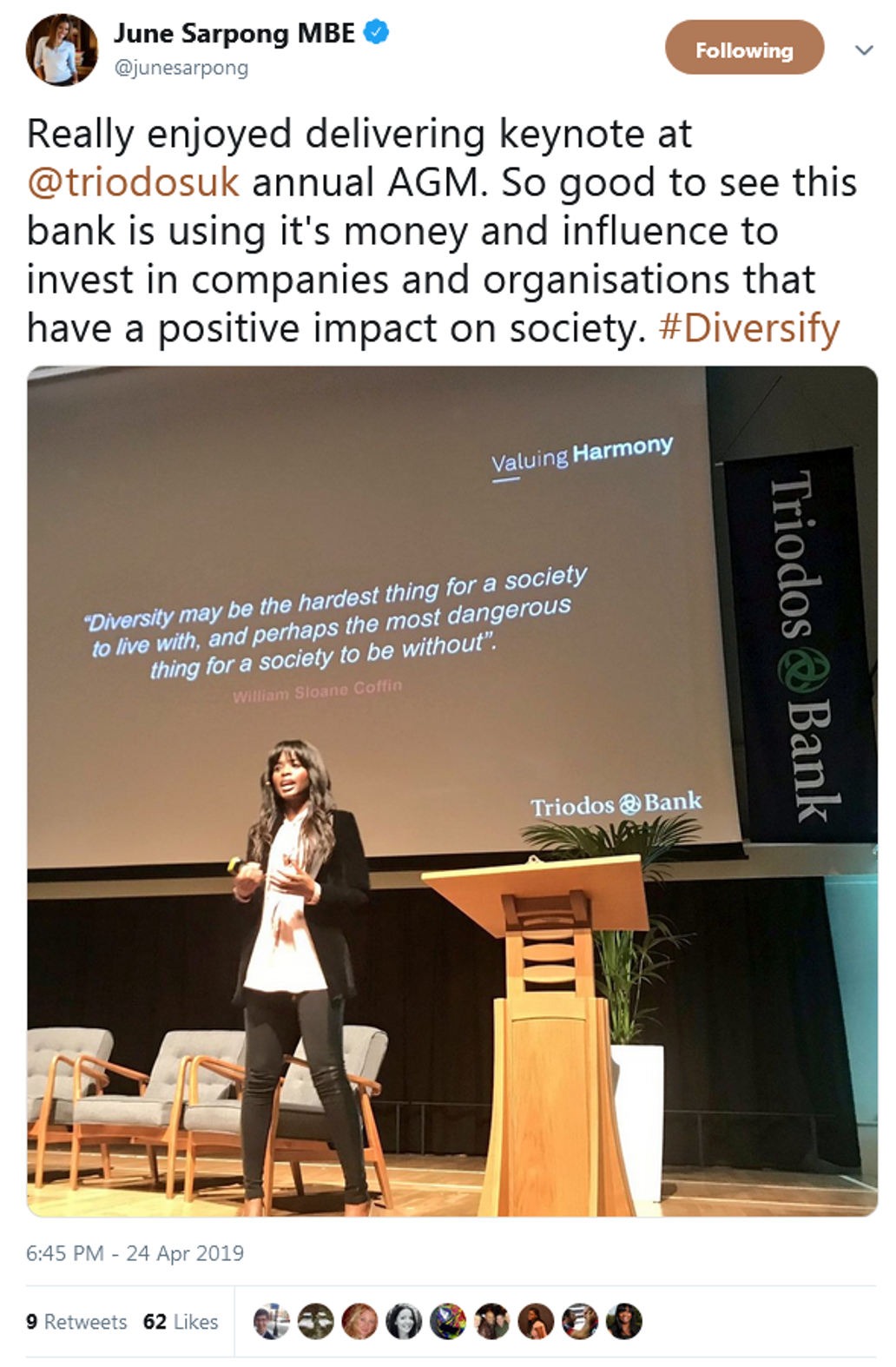 June also outlined simple steps to increase diversity within daily life and the workplace, saying that we should ask: "'Is everyone in the room?' And if they're not, why not?"
Each speaker was then given an opportunity to outline what harmony meant to them.
Patrick Holden, founding director of the Sustainable Food Trust, spoke about the importance of harmony to farming and agriculture. He focused on how everything in nature is connected, which is seen in the biodiversity required for sustainable farming. He argued the need for change in the sector, saying: "We have to do the right thing, even if it costs more in the short term – it will pay in the long term."
Education was the focus for Joy Carter, vice-chancellor of the University of Winchester. She drew upon childhood experience to explain the importance of "the beautiful interdependence of all life and the planet." Joy emphasised that the entire education system should place value on teaching about ecological and social balance, from nursery right through to post-graduate study. She argued that this was vital in order to shape the leaders of tomorrow.
Mark Adams, managing director of furniture company Vitsœ, introduced the idea of harmony in design, and the importance of adaptable, long-term products to creating a balanced world. He argued about the power of the consumer to demand change, saying: "We have to vote with our wallets."
Triodos Bank's Bevis Watts echoed the sentiment of consumer power, this time in relation to banking. He illustrated that there is still a long way to go in raising awareness, saying that: "In society at large, we're still really in the foothills of understanding what our pensions and savings do."
The day ended with a joyous performance from local choir Sing with Soul, as guests were given the opportunity to digest and discuss what had been said throughout the afternoon.
This video is hosted by Youtube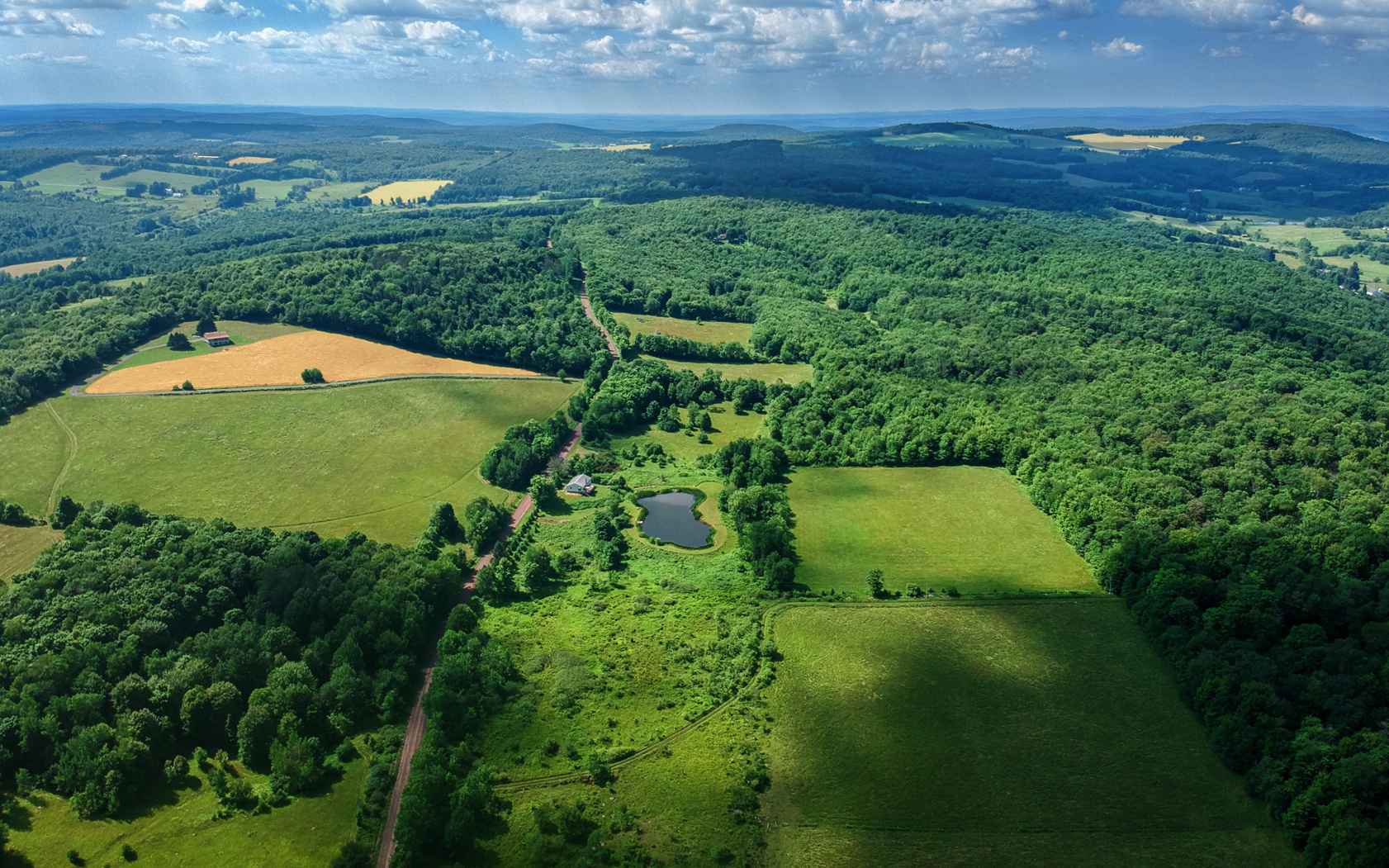 By playing this video you allow Youtube to track your visit More info
What one thing can we all do to bring harmony into our daily lives?
June Sarpong asked our panellists for a simple way to integrate harmony, here's what they had to say:
Joy Carter: Challenge educators to instil harmony with nature into every course.
Mark Adams: Just buy a few good quality things – look after them, repair them. If we all did that, we'd be a heck of a long way down the road.
Patrick Holden: Meditation and mindfulness. It helps with healing the world.
Join the conversation on social media. Share what one thing you too think we can all do to bring harmony into our daily lives? Share on Twitter tagging @TriodosUK using #ValuingHarmony or on Facebook tagging Triodos Bank UK.