One of the opening events in this year's programme was the Green Hay Forum, which focused on sustainability and gave visitors the opportunity to learn more about topics including plastic waste, agriculture and global warming.
Having enriched minds with books and inspiring talks, Hay Festival calls upon attendees and speakers to 'imagine the world'. We outline three hopeful visions of the future from leading environmentalists, who all spoke at the Green Hay Forum:
Imagine the world… where consumers wield power over corporations to put the environment first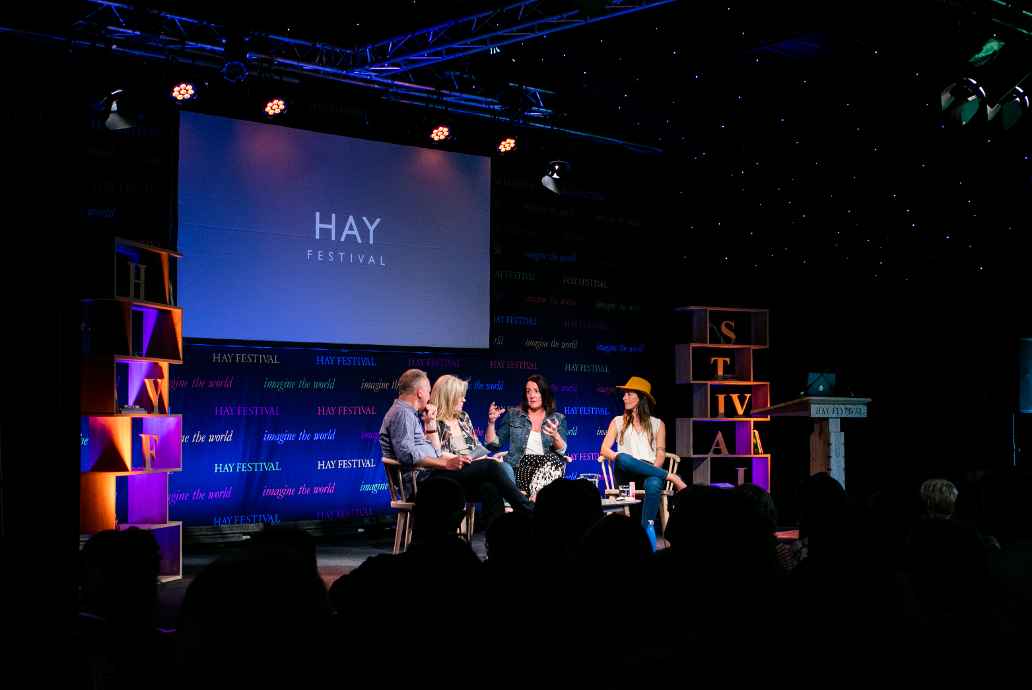 "In less than a century, plastic has gone from a miraculous material to a has-been hazard," summarised Martin Wright at the opening of the Food and Plastics: Myths and Facts panel discussion. He outlined that the problem can seem quite overwhelming to the public, but three campaigners – Natalie Fee, Lucy Siegle and Paula Owen – were on hand to discuss the issue and suggest simple steps that could be taken.
There were some notable moments of sobriety as the panellists spoke about the problems with current recycling systems, and particularly Tearfund's No Time to Waste report, which details that one person dies every 30 seconds in developing countries from diseases caused by plastic pollution and rubbish.
Yet positivity and hope came from the idea that we can harness our power as citizens to put pressure on retailers. As Natalie Fee, founder of City to Sea, pointed out, single-use plastic is "ultimately going to become the smoking of the environmental movement."
Journalist Lucy Siegle labelled the anti-plastic pressure an "uprising", while scientist Paula Owen illustrated the power of the consumer through the means of Marks & Spencer's much-ridiculed cauliflower steak, which was removed supermarket shelves after causing a Twitter storm.
The panel called on the audience to use social media to flag #pointlessplastic and to take steps to limit their own plastic use – from bamboo toothbrushes to plastic-free deodorant and a toolkit for plastic-free on the go.
Imagine the world… where we rewild more of our land to look after our soil's health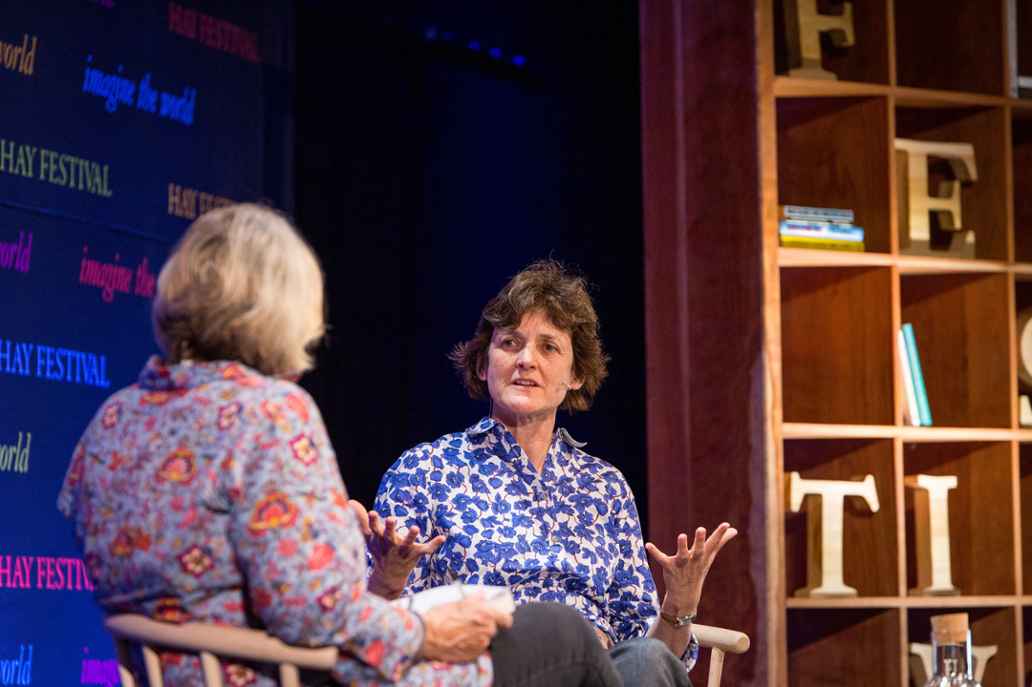 Isabella Tree and her husband inherited a failing farm in the 1980s, which continued to rapidly haemorrhage money. In 1999, they undertook a conservation project to bring life back to their "biological desert" at Knepp. Isabella explained that the project was "about letting go and being brave enough to let nature do its stuff."
Drawing from her book Wilding, Isabella had many interesting stories to tell of how flora and fauna can work in harmony. For example, grazing equine and bovine together meant that Knepp's cattle put on 60% more weight, while its pigs can hold their breath for two minutes and find food underwater.
What's more, Isabella explained that the effect of rewilding on the soil's health has been profound. From the once-barren land, the carbon sequestration has doubled and soil biota has tripled in just 20 years.
Isabella called on other land owners – whether they own a farm, an estate or just a back garden – to explore the concept of rewilding to protect the longevity of our soils. She outlined that there are estimated to be just 60 harvests left in the world, due to soil degradation, and that action needs to be taken quickly.
Isabella stressed the importance of connectivity and put forward the idea of farmers creating clusters to rewild their land on a rotational basis, giving the UK an efficient way of restoring the soil, while maintaining food production.
Even, if it's just creating a hedgehog route through your neighbours' gardens, Isabella proposed a future where we should "think like a beaver or a wild boar" and put nature at the forefront of our decision-making.
Imagine the world… where we can don't misinterpret climate science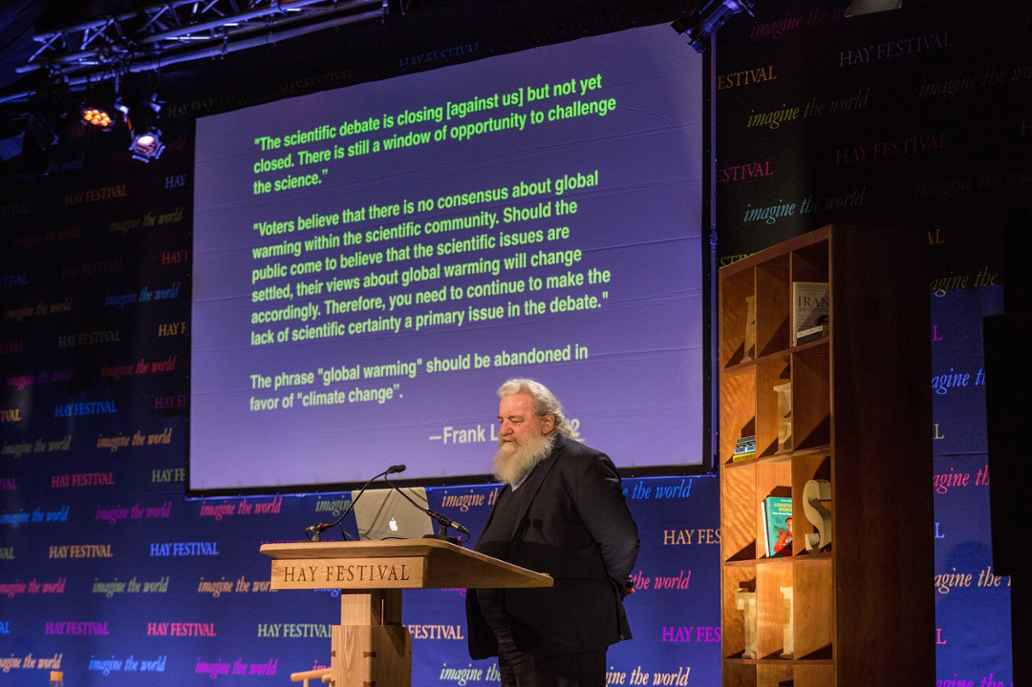 Prominent US academic David J Helfand refers to our current period as the "misinformation age". From Frank Lutz declaring that the phrase "global warming" should be abandoned in favour of "climate change" in a 2002 White House memo to the misuse of graphs by media outlets, the Professor of Astronomy took to the stage to argue that our view of the world is being tainted by the misappropriation of science.
He used an alarming statistic – that fake news stories spread six times faster than the truth on Twitter – to highlight the dangers of a social media echo chamber and illustrate the importance of looking a headlines with a critical eye.
Professor Helfand looked to arm his audience with a basic understanding of climate science and a questioning mindset that allows them to interpret data correctly and understand what scientists are really discovering – a topic that he covers in depth in his book A Survival Guide to the Misinformation Age.
When asked by host Andy Fryers about the role of education in constructing the problem, Professor Helfand said: "Our education system is profoundly broken in this misinformation age."
Professor Helfand advocates all young people being taught basic skills, such as understanding tables and graphs, tracing a story back to its original source and how to read scientific papers. He envisaged a world where soon "all scientific papers will be accessible to everyone for free", helping us to access transparent facts in a world full of inaccurately reported data.
Where to find Triodos Bank this year
Couldn't make it to Hay? We're at a number of other events this year, including: