Winter is a season many of us love – for the crisp weather or the festivities and feeling of goodwill in the air. But it also has plenty of unpleasant surprises up its sleeve; if it isn't the weather, it's a round of coughs and colds, on top of the challenging year we've all had. Charlotte Coleman, social media and content creation executive at Weleda – a friend and customer of Triodos Bank – shares some tips to keep us in fine fettle, naturally.
Nurture
For winter colds and 'flu, prevention is better than cure. A strong immune system and robust physical health puts you in a good position to cope with seasonal ills. Before and throughout winter, eat well – taking in lots of vitamins and minerals through fresh fruit and lightly cooked or raw vegetables.
If you're unlucky enough to fall foul of a cold, old-fashioned ideas can be surprisingly effective. For bunged-up colds, try strong, hot flavours like mustard, garlic or chilli – any of which help thin mucus and make it easier to expel. Dairy foods have the opposite effect, leading to congestion, so try to cut down on those. To clear sinuses or ease a tickly cough, sit in a steamy bathroom or lean over a bowl of hot water with a towel over your head to make a mini 'steam-tent', and remember to take plenty of fluids.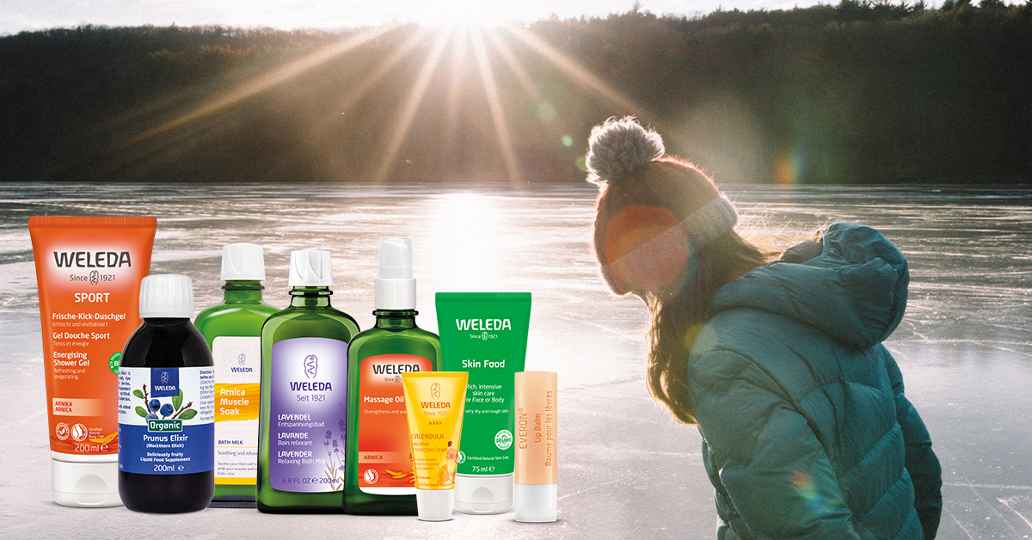 Stay active
Regular physical activity is associated with lower rates of anxiety across all age groups and exercise is essential for promoting well-being. But it doesn't need to be particularly intense for you to feel good - slower-paced activities, such as walking, can have the benefit of encouraging social interactions as well as providing some level of exercise. Get out in the fresh air – however cold or windy. Wrap up well and try to get a brisk walk or, at the very least, a few minutes outside doing something active like tidying up the garden.
When the sun does come out, expose hands and face for 15 minutes to top up Vitamin D levels and let the light help banish winter blues. Cold and dry air can cause havoc with your skin, so don't forget to look after your face. Super-rich skin hero Weleda Skin Food protects, nourishes and replenishes and a small amount of Calendula Weather Protection Cream on exposed skin helps protect from biting temperatures and wind chill.
Pamper
Cold, dark nights can be conducive to cosying up with a blanket, a hot drink and getting plenty of rest. Weleda's fruity organic elixirs offer a natural way to top up your vitamin C or boost health through the winter. These can be added to hot water as a winter warmer or taken undiluted straight off the spoon- another easy way to get some added selfcare and keep your immune system happy.
The coldest season of the year may also bring its share of aches and pains, so try starting the day in an energising shower, and end the day with a relaxing pampering session. Light some candles, switch off and enjoy a long soak in the bath with soothing Arnica Muscle Soak, or Lavender Relaxing Bath Milk to unwind. Getting as much sleep as possible will help both your mood and immune system – another easy win in the quest for a perfect season of wellbeing. Winter gives us the chance to slow down and nurture our mental and physical wellbeing and a little natural self-care can go a long way.
Always read the label.
Win a selection of Weleda self-care products
This winter Weleda are offering the chance to win a hamper of Winter wellness goodies to help you through the colder months – from the Arnica Muscle Soak to ease weary muscles, to the intensively nourishing and protective Skin Food and Everon Lip Balm. To be in with a chance of winning, head to our Instagram channel.