Situated in the South Wales Valleys, ELITE was founded in Llantrisant in 1994. The organisation supports hundreds of people every year with vocational opportunities, training and employment. It does this through a variety of projects and services for both individuals and employers, including guidance counselling, preparation courses, employment visits and placements, interview preparation, and specialised person-centred assessment.
"For nearly 30 years, we've helped to support people across Wales to access meaningful, paid employment," explains Andrea Wayman, ELITE Supported Employment Agency's Chief Executive Officer. "We can see the huge difference this makes to individual's lives, allowing them to grow in confidence, refine skills and boost their CVs".
ELITE's social enterprises
Since its foundation, the charity has also established three social enterprises. All three not-for-profit organisations empower disabled and disadvantaged people to gain valuable skills and experience through employment, volunteering and training opportunities, providing a stepping stone into employment in the local community.
ELITE Paper Solutions is a carbon-friendly enterprise that enables Welsh businesses to pursue their environmental responsibilities, whilst being cost-effective in disposing of confidential waste. The organisation has even diversified into making fully biodegradable animal bedding. Since its foundation, the enterprise has supported over 500 individuals into training, volunteering and employment.
ELITE Training Solutions offers professional, specialised training, within the employment sector. It provides experienced course tutors who offer disability awareness training, conflict management and cover many other aspects of supported employment.
ELITE Clothing Solutions offers bespoke garments to customers across Wales while supporting those with aspirations to enter, remain and progress in employment. Its services range from offering bespoke clothing, to embroidery and uniform shredding. The enterprise is fully inclusive for disabled people, supporting them through training and relevant accreditations, as well as to access traineeships and apprenticeships.
Building its impact
ELITE approached Triodos Bank for a £828,000 loan to purchase the currently rented location of ELITE Paper Solutions, meaning it can continue to provide its valuable help across Wales. The financial saving allows the wider charity to reinvest continuously into the long-term future of ELITE, supporting more people with disabilities or those at a disadvantage.
Talking about the new lending, Andrea continues: "This new finance is a catalyst that helps us to expand the offering at one of our key social enterprises, ELITE Paper Solutions, as well as allowing us to have the capital to reinvest in our projects and services, with the aim of helping more people and communities across Wales."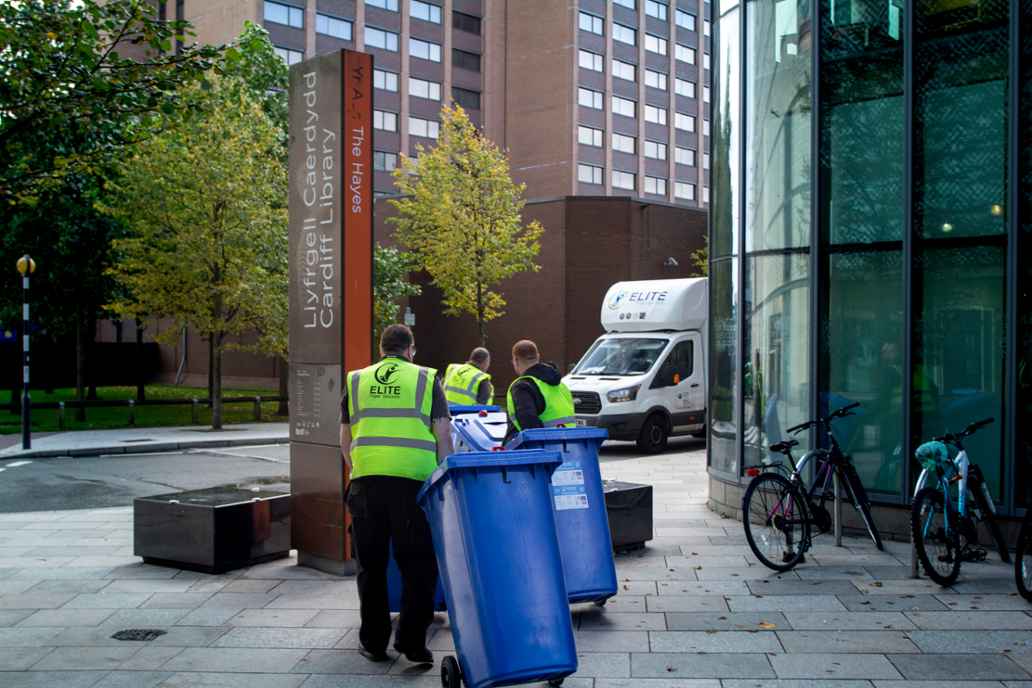 ELITE is committed to supporting both people and the environment. It is working towards being carbon neutral, through changes such as improving the energy efficiency of its properties and switching to electric vehicles. Additionally, the social mission of ELITE promotes the wellbeing and rights of those in need, supporting hundreds of people yearly with vocational, training and employment opportunities, and raising awareness to local employers of good practice regarding the recruitment and employment of those with disabilities.
The work of ELITE is widely recognised, and it is the recipient of numerous accolades, including the Gold Level Investors in People Award, the Disability Confident Leader Status, and the Green Dragon Level 2 Award in Environmental Efficiency.
"As a bank focused solely on lending for positive impact, we are really impressed by ELITE's track record, with nearly 30 years of making a difference in the community," adds Rob Keegan, business banking regional manager for Wales at Triodos Bank UK. "We're pleased to support the charity with the finance that allows them to take the next steps in sustainable growth. This is exactly the kind of organisation that Triodos looks to fund."
Why we finance social projects
We support the personal development of individuals, by financing businesses that address specific social objectives. In this sector, we lend to not-for-profit employment programmes, youth help centres and integration programmes and more.